A Message from KCFFAA
"Over the past few months, Kansas City Friends of Alvin Ailey has shared our excitement with you that we were bringing the amazing dance company Ailey II to Kansas City on May 1-2. The world-renown dance company was scheduled for several performances including at the Annual Fundraising Gala. We thank those of you who purchased tickets to the public performances and the Gala.
Unfortunately, due to the COVID-19 restrictions, Ailey II is not able to come to Kansas City in May.  They will perform on May 2nd at 6 PM for a virtual event. Learn more at https://www.kcfaa.org/2020gala/"
Refunds are being issued back to the original form of payment. Please be patient with us as this is a very time-intensive task. You will be contacted before the end of April if we have any issues with your refund during the process.
---
AILEY II GALA PERFORMANCE
The talented dancers of Ailey II are renowned for captivating audiences and translating their strength and agility into powerful performances. Under the artistic direction of Troy Powell, this critically-acclaimed company presents vibrant performances and innovative community programs across the country and internationally. The Ailey spirit shines as these artists perform an exhilarating and diverse repertory that includes Alvin Ailey's timeless classics and thrilling new works by today's outstanding emerging choreographers.
Please be aware that there is also a Friday Evening & a Saturday Matinee performance available. Find more info HERE.
The Folly Staff has NOT been made aware of what dances will be performed yet. 
---
Tickets
Please contact Kansas City Friends of Alvin Ailey regarding sponsorship of their 2020 Gala to get your tickets by visiting KCFAA.org, emailing Melissa Taylor at [email protected], or by calling 816-471-6003
---
**This event is presented by a rental client. The content of this event does not necessarily reflect the views or opinions of the Folly Theater, its staff, or the board of directors.

Saturday May 02, 2020

6:00 PM

$100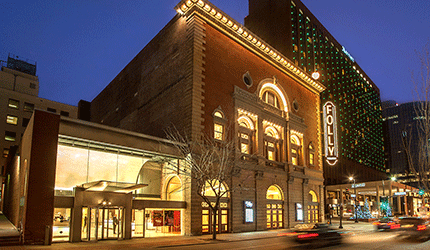 LOCATION
The Folly Theater
300 West 12th Street
Kansas City, MO 64105
Ticket Office 816.474.4444