Brandon Goldberg started picking out tunes on the piano when he was in preschool, and it wasn't long before Goldberg's aptitude for jazz was revealed. Goldberg at age 14 is already a highly respected jazz performer whose debut CD Let's Play was given four stars by Downbeat Magazine. Initially influenced by singers Andrea Bocelli, Frank Sinatra, and Dean Martin, and jazz heroes Oscar Peterson and Herbie Hancock, Goldberg's deeply rooted sound is straight-ahead jazz in the great American tradition.
2020 Grammy-nominated saxophonist Logan Richardson will join with the Goldberg Trio for the concert's final set to celebrate the music of Kansas City jazz legend Charlie "Yardbird" Parker, marking 100 years since his birth.
Richardson is a Kansas City native himself, and recently told NPR "The thing for me is not being afraid to firmly stand on the shoulders of our forefathers, the ones that paved the way for us."
---
Tickets may not yet be available online. Contact the Harriman-Jewell Series Box Office for more information.
---
The Folly Theater Box Office does not handle ticket sales for this event. Please click the buy tickets to be directed to the ticketing page or contact the Harriman-Jewell Series Box Office at 816-415-5025.
**This event is presented by a rental client. The content of this event does not necessarily reflect the views or opinions of the Folly Theater, its staff, or the board of directors.

Saturday September 25, 2021

7:30 PM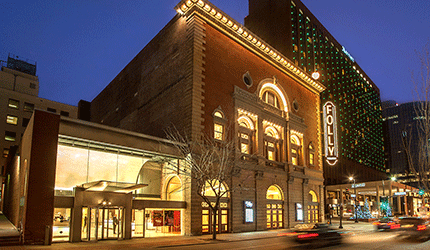 LOCATION
The Folly Theater
300 West 12th Street
Kansas City, MO 64105
Ticket Office 816.474.4444