Recommended for grades 1st – 5th grade
Best buds George and Harold have been creating comics for years, but now that they're in 5th grade, they figure it's time to level up and write a musical based on their favorite character, Dog Man, the crime-biting sensation who is part dog, part man, and ALL HERO!!
How hard could it be? With the head of a dog and the body of a police officer, Dog Man loves to fight crime and chew on the furniture. However, while trying his best to be a good boy; can he save the city from Flippy the cyborg fish and his army of Beasty Buildings? Can he catch Petey, the world's most evil cat, who has cloned himself to exact revenge on the doggy do-gooder? Moreover, will George and Harold finish their show before lunchtime?
Find out in this epic musical adventure featuring the hilarity and heart of Dav Pilkey's beloved characters. Based on the best-selling book by Dav Pilkey
Curriculum Connections:
– Communication and Language Arts
– Music
– Creative Writing
Themes:
– Teamwork
– Friendship
– Imagination
– Playwriting
– Inventing

---
ALL TICKETS $6!
Have a group or school?
GIVE US A CALL! 816-474-4444 OR EMAIL LINDA BOWLEN,

[email protected]
---
The Folly Kids' Series is a collection of national and international traveling companies that produce shows focused on education, inclusion, and fun. See more Folly Kids' Series shows here.
The Folly Theater thanks the generous sponsors of the 20/21 Folly Kids' Series

Tuesday February 16, 2021

11:30 AM

$6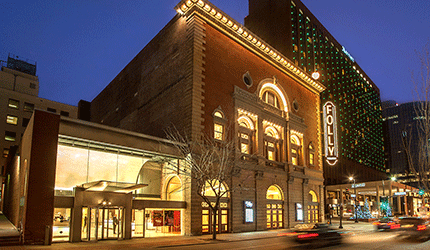 LOCATION
The Folly Theater
300 West 12th Street
Kansas City, MO 64105
Ticket Office 816.474.4444