Firmly established as one of the leading quartets of its generation, the Doric String Quartet receives enthusiastic responses from audiences and critics across the globe.
Winner of the 2008 Osaka International Chamber Music Competition in Japan and 2nd prize at the Premio Paolo Borciani International String Quartet Competition in Italy, the Quartet now performs in leading concert halls throughout Europe including Amsterdam Concertgebouw, Vienna Konzerthaus, Berlin Konzerthaus, Frankfurt Alte Oper, Hamburg Laeiszhalle and De Singel, and is a regular visitor to the Wigmore Hall. The Quartet tours annually to the United States and made its Carnegie Hall debut in 2017.
Doric will be joined by powerhouse pianist Benjamin Grosvenor, who is internationally recognized for his electrifying performances, distinctive sound, and insightful interpretations.
---
Repertoire
BEETHOVEN String Quartet Op. 18, No. 6
ELGAR Piano Quintet in A minor for Piano and String Quartet, Op. 84
FAURÉ Piano Quintet No. 1 in D Minor, Op. 89
---
Tickets
FCM Concert Memberships are available now
---
**This event is presented by a rental client. The content of this event does not necessarily reflect the views or opinions of the Folly Theater, its staff, or the board of directors.

Sunday January 17, 2021

2:30 PM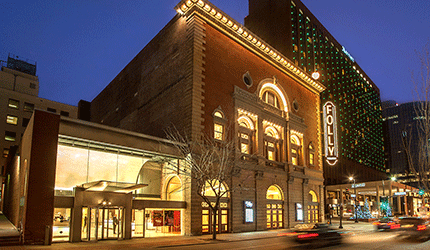 LOCATION
The Folly Theater
300 West 12th Street
Kansas City, MO 64105
Ticket Office 816.474.4444