THIS EVENT IS AWAITING ITS RECAST DATE CONFIRMATION; ITS ORIGINAL DATE WILL CHANGE DUE TO COVID-19 CONCERNS.
---
Like Luciano Pavarotti before him, famed Peruvian tenor Juan Diego Flórez sang his American recital debut for the Harriman-Jewell Series. Since that recital in 2002, Mr. Flórez's career has exploded into operatic superstardom. He'll be making his fourth appearance in Kansas City performing the bravura operatic repertoire for which he is known.
Juan Diego Flórez started off singing pop, rock, and Peruvian music. A scholarship to the Curtis Institute set him on course for a career in opera, but it was his triumphant performance while filling in for an ailing singer at Italy's Rossini Festival that gave the 23-year-old Flórez the attention of the world. In his native Peru, Floréz is not just a singer but a cultural icon, and his fandom spans the globe. Opera News has compared Flórez's voice "to the engine in a Porsche 911; when you hear it, you know you're in the presence of something finely tuned and luxurious."
---
Tickets may not yet be available online. Contact the Harriman-Jewell Series Box Office for more information.
---
The Folly Theater Box Office does not handle ticket sales for this event. Please click the buy tickets to be directed to the ticketing page or contact the Harriman-Jewell Series Box Office at 816-415-5025.
**This event is presented by a rental client. The content of this event does not necessarily reflect the views or opinions of the Folly Theater, its staff, or the board of directors.

Tuesday January 19, 2021

7:00 PM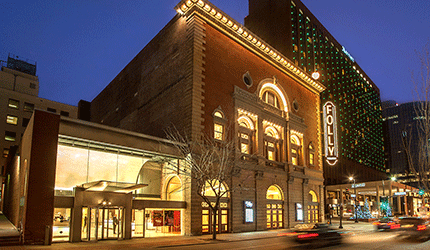 LOCATION
The Folly Theater
300 West 12th Street
Kansas City, MO 64105
Ticket Office 816.474.4444