Presented by Heartland Men's Chorus
Recommended for grades 2nd – 5th grade
"Oliver Button is a Sissy," a children's picture book written and illustrated by Tomie dePaola, is the story of a boy who stands up to bullies, not by fighting, but by staying true to himself. The story, based on the childhood experiences of Tomie dePaola, is a simple one. Oliver Button doesn't like sports as the other boys do. He likes to read, draw pictures, dress up in costumes, and sing and dance.
His mother tells him he needs to get some exercise, and when Oliver mentions he likes to dance, his parents enroll him in Ms. Leah's Dancing School. His father says it is, "Especially for the exercise." Oliver loves to dance and loves his shiny new tap shoes. However, it hurts his feelings when the other boys make fun of him. One day when he arrives at school, he sees that someone has written on the school wall, "Oliver Button is a sissy."
Despite the teasing and bullying, Oliver continues dance lessons. In fact, he increases his practice time in hopes of winning the big talent show. When his teacher encourages the other students to attend and root for Oliver, the boys in his class whisper, "Sissy!" Although Oliver hopes to win and does not, both of his parents are very proud of his dancing ability.
After losing the talent show, Oliver is reluctant to go back to school and be teased and bullied again. Imagine his surprise and delight when he walks into the schoolyard and discovers that someone has crossed out the word "sissy" on the school wall and added a new word. Now the sign reads, "Oliver Button is a star!"
Curriculum Connections:
– Communication
– Social Interaction
– Music
– Empathy
Themes:
– Empowered Youth
– Bullying
– Empathy
– Storytelling
---
ALL TICKETS $6!
Have a group or school?
GIVE US A CALL! 816-474-4444 OR EMAIL LINDA BOWLEN,

[email protected]
---
The Folly Kids' Series is a collection of national and international traveling companies that produce shows focused on education, inclusion, and fun. See more Folly Kids' Series shows here.
The Folly Theater thanks the generous sponsors of the 20/21 Folly Kids' Series

Wednesday April 07, 2021

11:30 AM

$6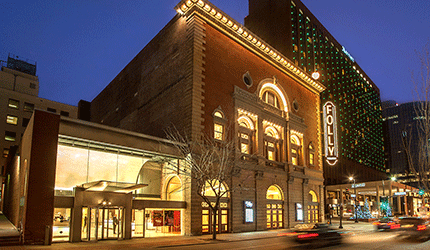 LOCATION
The Folly Theater
300 West 12th Street
Kansas City, MO 64105
Ticket Office 816.474.4444