Life 88.5 presents
Tenth Avenue North
Decade the Halls Tour
with music by Plumb & special guest Land of Color
Heralded as "a Christmas experience unlike any other," the Decade The Halls Tour brings a whole new meaning to the timelessness of Christmas. Featuring both traditional Christmas favorites and original Christmas songs, each set stylistically in a different decade, Tenth Avenue North will highlight songs from their current Christmas album, Decade The Halls, while they reminisce with audiences and honor the musical genres and styles of decades like the '20s, '30s and '40s, up to the present.
"Imagine combining all the joyful exuberance of a children's Christmas cantata with all the professional pageantry of Broadway and Rockefeller Center, and then throw in all the sacredness of a midnight Christmas Eve candlelight service and you get our tour, Decade The Halls," says Tenth Avenue North frontman Mike Donehey. "We're exploring the last 100 years of popular music. We take a song from each style of each decade of the last 100 years, and not only do we explore the time and the music, we explore the wardrobes! I'm talking costume changes, dance moves… a night the entire family's going to love."
---
Tickets
$30 – $75 [+Fees]
VIP Reserved Seating in Orchestra Center | $75
(located in the rows A – G- only 98 available)
Package includes best seating in the venue, poster, Meet & Greet with the Artist and Photo Opportunity. The VIP event is from 5:15pm – 6:00pm. Doors open at 5:00pm.

Reserved Seating | $50
(located in the Orchestra Center rows H – W, Orchestra Right, Orchestra Left, Orchestra Right Boxes, Orchestra Left Boxes and first 4 rows of Lower Balcony)
Reserved Seating | $40
(located in the Lower Balcony rows E – H)
Reserved Seating | $30
(located in the Upper Balcony)

-A ticketing fee will be charged per ticket.
-Sales tax for Kansas City, MO will be charged per ticket.

ADA/Wheelchair seating
Wheelchair seating is available in the Orchestra Right and Orchestra Left sections of the theater. The Wheelchair and Companion seats are a different color on the seating chart. When choosing your seats, please hover over the seat you desire and a message will appear informing you whether the seat is the wheelchair seat (no chair) or the companion seat.

No Refunds or exchanges are available.
**The Folly Theater Box Office does not handle ticket sales for this event. Please click the buy tickets to be directed to the ticket page. Any ticketing questions must be directed to Northwestern Tickets by calling 866-821-5151 or emailing [email protected].
---
**This event is presented by a rental client. The content of this event does not necessarily reflect the views or opinions of the Folly Theater, its staff, or the board of directors.

Thursday December 12, 2019

7:00 PM

$30 - $75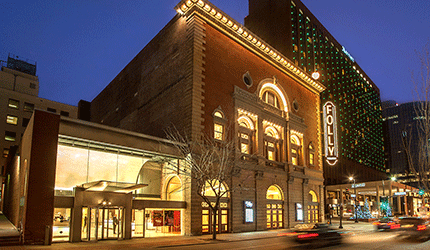 LOCATION
The Folly Theater
300 West 12th Street
Kansas City, MO 64105
Ticket Office 816.474.4444