Due to the travel restrictions brought on by the COVID-19 Pandemic, this performance has been cancelled. All ticket holders have been notified. We are working with the group to try and identify a new performance date, but at this time, there is no new date.
---
Recommended for grades Pre-kindergarten – 2nd grade
Mermaid Theatre's lively compilation captures the magic of three Eric Carle favorites. The hour-long triple-bill follows the adventures of The Mixed-Up Chameleon who is bored with his life as he sits about changing color all day until he takes a trip to the zoo. His hilarious attempts to emulate the beautiful animals he sees conclude with his discovery that there is value in his own unique self. The Very Hungry Caterpillar eats his way through an amazing variety of foods on his path to becoming a beautiful butterfly. The story of Brown Bear, Brown Bear, What Do You See? has helped hundreds of thousands of toddlers to identify colors and creatures.
Capturing the rhythmic text and beautiful tissue-paper collage illustrations of the classic picture book, Mermaid's adaption generates a fresh appreciation of an endearing cast of characters like the Very Hungry Caterpillar.
Curriculum Connections:
– Visual Art
– Literature-Based
– Sequence-Words, Numbers
– Associate Colors and Meaning with Objects
Themes:
– Social Emotional Learning
– Literature-Based
– Visual Art
– Rythyms and Patterns
---
Tickets
ALL TICKETS $6!
Have a group or school?
GIVE US A CALL! 816-474-4444 OR EMAIL LINDA BOWLEN,

[email protected]
---
The Folly Kids' Series is a collection of national and international traveling companies that produce shows focused on education, inclusion, and fun. See more Folly Kids' Series shows here.
The Folly Theater thanks the generous sponsors of the 20/21 Folly Kids' Series

Wednesday January 27, 2021

11:30 AM

$6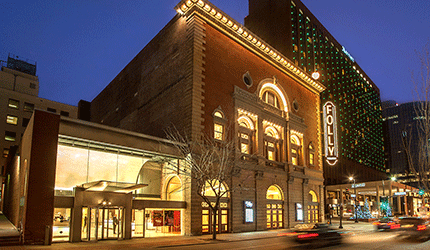 LOCATION
The Folly Theater
300 West 12th Street
Kansas City, MO 64105
Ticket Office 816.474.4444