Recommended for grades 6th-12th grade
Warriors Don't Cry is a story of a girl that is reluctant to cope with one more tragedy in a school. Young activist Ya Girl is ready to call it quits on leading her million-plus Instagram followers in the fight for social justice. When Melba Pattillo Beals steps out of history and into Ya Girl's phone to share the story of her battle to integrate Little Rock Central High School in 1957, Ya Girl learns to see herself in Melba—and in all the young warriors who came before her to raise their hands and make a difference.
Inspired by Dr. Melba Pattillo Beals's Little Rock Nine memoir Warriors Don't Cry, this production is a catalyst for a deeper discussion about social responsibility, civil discourse, social media, and community engagement.
Curriculum Connections:
– Communication and Language Arts
– Social Studies
– Music
– Technology
Themes:
– Empowered Youth
– Technology
– Civil Discourse
– Social Justice
– Activism
– Social Media
– Freedom
---
ALL TICKETS $6!
Have a group or school?
GIVE US A CALL! 816-474-4444 OR EMAIL LINDA BOWLEN,

[email protected]
---
The Folly Kids' Series is a collection of national and international traveling companies that produce shows focused on education, inclusion, and fun. See more Folly Kids' Series shows here.
The Folly Theater thanks the generous sponsors of the 20/21 Folly Kids' Series

Friday January 29, 2021

9:45 AM

$6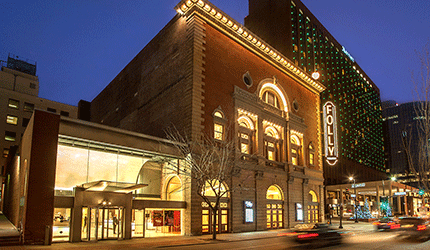 LOCATION
The Folly Theater
300 West 12th Street
Kansas City, MO 64105
Ticket Office 816.474.4444