Sweet Honey in the Rock
At the Folly Theter
Part of The Folly-Bridge Americana Series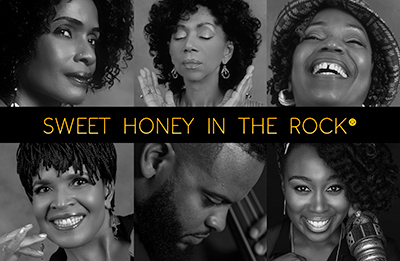 Box Office Opens: 6:30pm
Theater Doors Open: 7:00pm
The Grammy-nominated, iconic, women-led African-American vocal ensemble SWEET HONEY IN THE ROCK marks its 50TH ANNIVERSARY with a powerful three-year celebration that will honor its storied past and set the course for the future of the group, which has been called "one of the most dynamic, versatile and still relevant musical collectives in music today."
Ever since its inception in Washington DC in 1973, Sweet Honey in the Rock has thrived as both a performance ensemble and as an ambassadorial African-American organization founded on the triumvirate missions of empowerment, education and entertainment. Current members include Carol Maillard and Louise Robinson (both original co-founders of the group), Nitanju Bolade Casel, Aisha Kahlil, featured musician Romeir Mendez on upright acoustic bass and electric bass, plus sign language interpreter Barbara Hunt.
Sweet Honey In The Rock is a powerful and unique performing entity that fuses the elastic 360-degree possibilities of the human voice with a theatrical flare that keeps audiences returning for more, year after year. Throughout its five decades of distinguished service, the group and its members have created positive, loving, and socially-conscious message music that is spiritually fortifying. Through its music and its members' actions, Sweet Honey consistently takes an active stance toward making this planet a better place for all in which to live.
The Folly-Bridge Americana Series is sponsored by 90.9 The Bridge.