A Cowtown Revival featuring Kelley Hunt
Including Chet Nichols, The Boogaloo 7, and The Jameson, Bacus, Anderson Band
See Chet Nichols return to the the Kansas City stage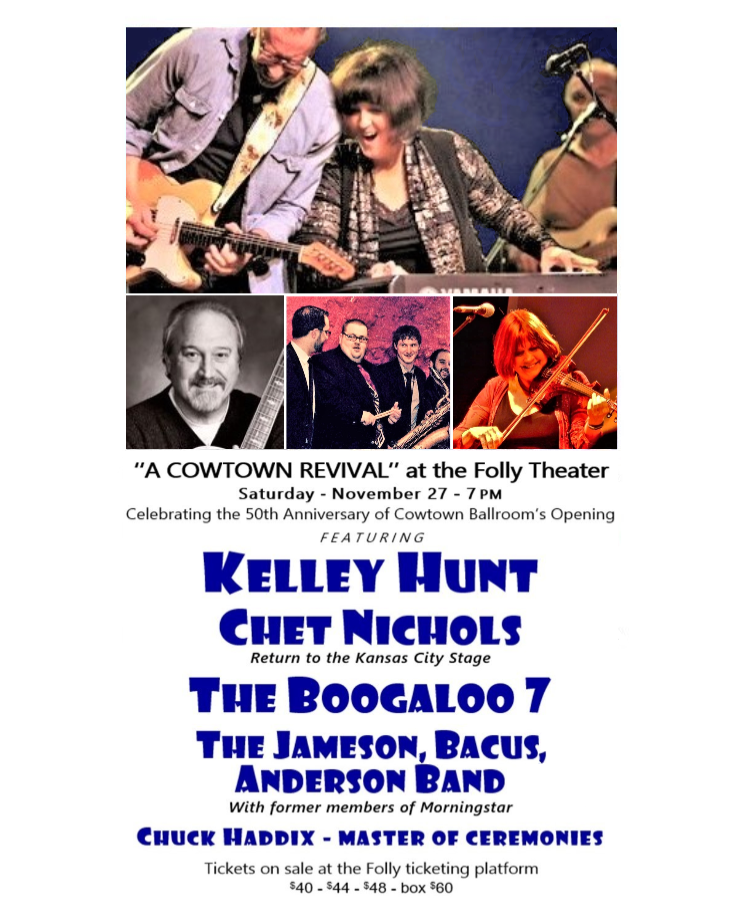 A Cowtown Revival Featuring Kelley Hunt
Including Chet Nichols, The Boogaloo 7, and The Jameson, Bacus, Anderson Band
The Jameson, Bacus, Anderson Band
Celebrating the 50th Anniversary of Cowtown Ballroom's Opening. Featuring: Kelley Hunt, Chet Nichols, The Boogaloo 7, and The Jameson, Bacus, Anderson Band, with Chuck Haddix as the Master of Ceremonies. Cowtown Ballroom began its three-year run of more than 100 remarkable shows in the summer of 1971. Come celebrate a first of a series of ''Cowtown Revivals" this fall to mark the 50th anniversary of this legendary ballroom. The four-act events will feature a combination of top area performers from those wonderful days with the hottest local bands today.
Tickets are $25, $35, $45, and $50 plus fees.
Effective September 13, 2021
All individuals who enter the Folly Theater to attend public performances must provide proof of full COVID-19 vaccination OR proof of a negative COVID-19 test (within the last 72 hours), either by presenting a physical or digital copy.  We are not able to accommodate children under the age of two (2).  Masks will also be required at all times while inside the building.