Deshica Rage LIVE! In the Lounge
In Partnership with KKFI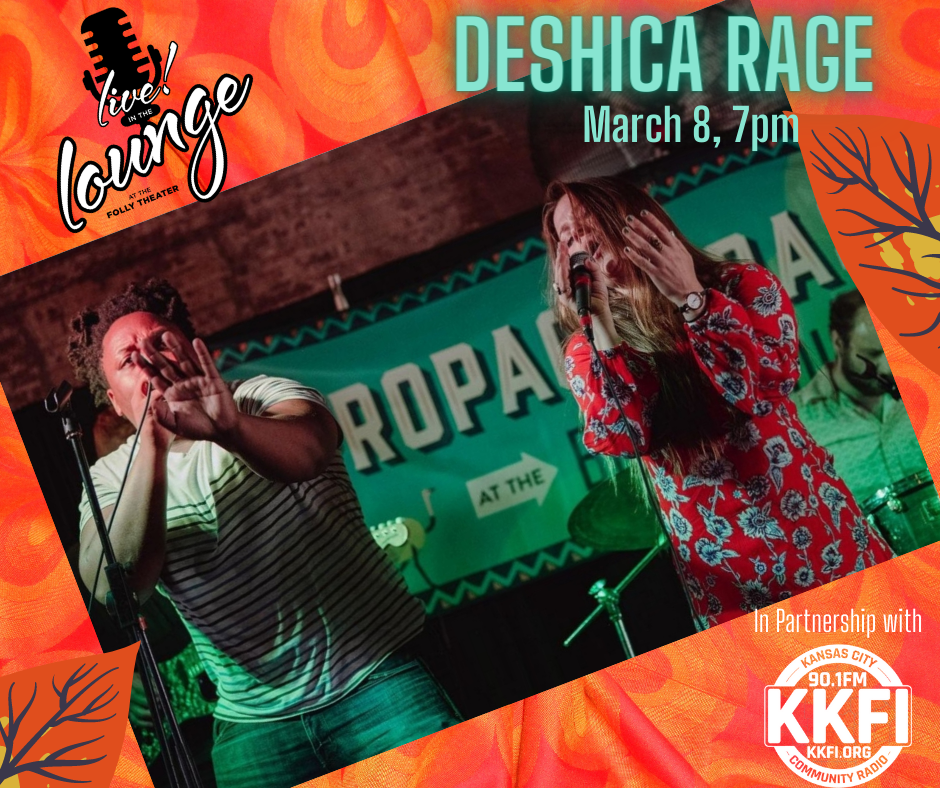 Jessica Paige has been voted Kansas City's Best Vocalist, Jessica is a master storyteller, translating personal experience into music that is sophisticated, diverse in its influences, and instantly relatable. Her commanding voice has been described as equal parts Norah Jones and Janis Joplin, an uncommon union of sultry warmth and raw power. Jessica recently recorded her second album at the legendary Bear Creek Studio.
She's opened for Corinne Bailey Rae, Hembree, Yes You Are, and Nicole Atkins and is a 3 time American Idol semi-finalist.
"She's a must see with her strong stage presence and sultry vocals…." -The Heartland Today
"The record showcases Paige's gift for crafting lovely, indelible melodies and for her expressive, soulful voice, which shifts easily among several styles"- The Kansas City Star
"A propulsive emcee, a bold songwriter, a skilled trombonist, an auspicious producer and an enterprising artist" – 90.9 The Bridge
Kadesh Flow is a rapper with an MBA, a trombone Super Saiyan, and a Billboard Charting recording/ performing artist. He brings all of the above together, both on tracks and on stage, in riveting form as he actively blends his jazz and hip hop backgrounds. Desh's most recent project, Motivated, has been hailed as visceral, real, and boasting astounding energy. Kadesh blends personal, candid lyrical moments and storytelling with call-outs to history, social issues, anime, video games, and anything else that may inspire him at the time.
At age 11, 'Desh, as many of his listeners call him, began rapping and playing trombone within two weeks of one another. Now, he can be heard playing on records with hip hop stars like Jidenna and underground stalwarts like Strange Music's Ubiquitous and JL. He also boasts performances supporting artists such as Rakim, Janelle Monae, Dave East, The Revivalists, Tech N9ne, and numerous other prolific acts.
Kadesh is a member of the NPC (Nerdy People of Color) Collective, through which he is working with Founding Member Mega Ran and fellow NPCs such as EyeQ and Creative Mind Frame to both collaborate on fun, relevant content and foster a community for underrepresented nerd enthusiasts. Currently he is lighting up stages around the country, gracing such events as Official SXSW Showcases, MAGFest, PAX West, Anime Expo, Momocon & Otakon, as well as various other music festivals and venues throughout the continental U.S.
Tickets on sale in February – $22.  This is a limited seating listening room environment.
THANK YOU TO OUR SPONSORS
THE COPAKEN FAMILY FOUNDATION
JOHN W & EFFIE E SPEAS MEMORIAL TRUST, BANK OF AMERICA TRUSTEE