Eileen Ivers, A Joyful Christmas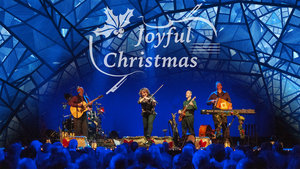 Eileen Ivers, A Joyful Christmas
Fiddler Eileen Ivers has established herself as the pre-eminent exponent of the Irish fiddle in the world today and is a pioneer and educator in her musical field.  GRAMMY winner and Emmy nominated, Eileen has been the guest star of over 50 orchestras including the London Symphony Orchestra, Boston Pops and Cleveland Orchestra.  She was the musical star of Riverdance, none-time All-Ireland Fiddle Champion and All-Ireland Banjo Champion.  She has collaborated with Sting, The Chieftains, Patti Smith and Al Di Meola.  Eileen was a founding member of Cherish the Ladies and has performed on movie soundtracks including Gangs of New York and Back to Titanic.  Ms. Ivers has performed for presidents and royalty worldwide.
Join Eileen and her band as they celebrate the Christmas Season!
Tickets are $15, $25, $35, and $50 plus fees.
Effective September 13, 2021
All individuals who enter the Folly Theater to attend public performances must provide proof of full COVID-19 vaccination OR proof of a negative COVID-19 test (within the last 72 hours), either by presenting a physical or digital copy.  We are not able to accommodate children under the age of two (2).  Masks will also be required at all times while inside the building.