Golden! Girls Gone Wild! Part 2
Late Night Theatre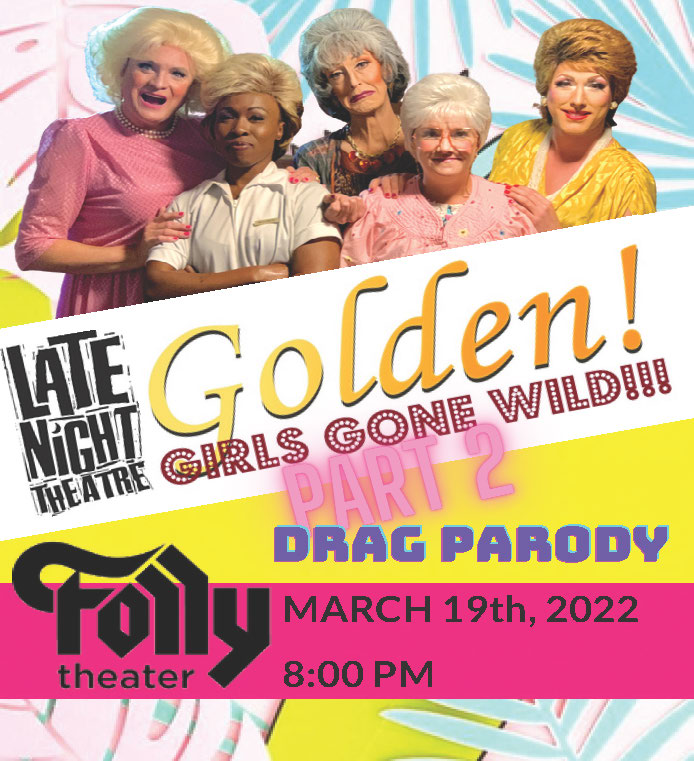 Golden! Girls Gone Wild! Part 2
They're coming back!
Kansas City's Late Night Theatre brings an all-new version of the fantastic geriatric classic "Golden! Girls Gone Wild! Part 2!" to the Folly Theater in another hilarious drag parody of the phenomenal television show!
Join in the continuing adventures of Dorothy, Rose, Sophia, ad Blanche as this talented troupe of actors recreate new episodes, along with a favorite or two from their inaugural Golden Girls Gone Wild.   All packed with the most witticisms and life lessons that the Golden Girls (or men in drag) can throw out!
Watch as this wild touring group of guys and girls perform their parody of the iconic hospital scenes, such as the one when Sophia thinks she's dying, the one when Blanche struggles over giving her kidney to her sister, or the one when Rose has a heart attack and bypass surgery. Yes, hospitals are funny! Just you wait!
And the Late Night Theatre gang is adding favorite scenes for an Act Two finale.  Dive in as this wild theatre troupe performs iconic scenes like – The golden girls go to a nudist colony, Dorothy and Sophia performing as Sonny and Cher, Glance gets the girls sent to jail and Condoms! Condoms! Condoms! This will be a true parody tribute to an iconic 80's TV show.  And thank you for being a friend!
All-Star Cast includes Jessica Dressler (Ma), Spencer Brown (Blanche), Chioma Anyanwu (12 wild Characters), Chadwick Brooks (Rose), and Ron Megee (Dorothy).
Tickets – $25
Entire Box – $200