Havilah Bruders LIVE! in the Lounge
with Beau Bledsoe
In Partnership with KKFI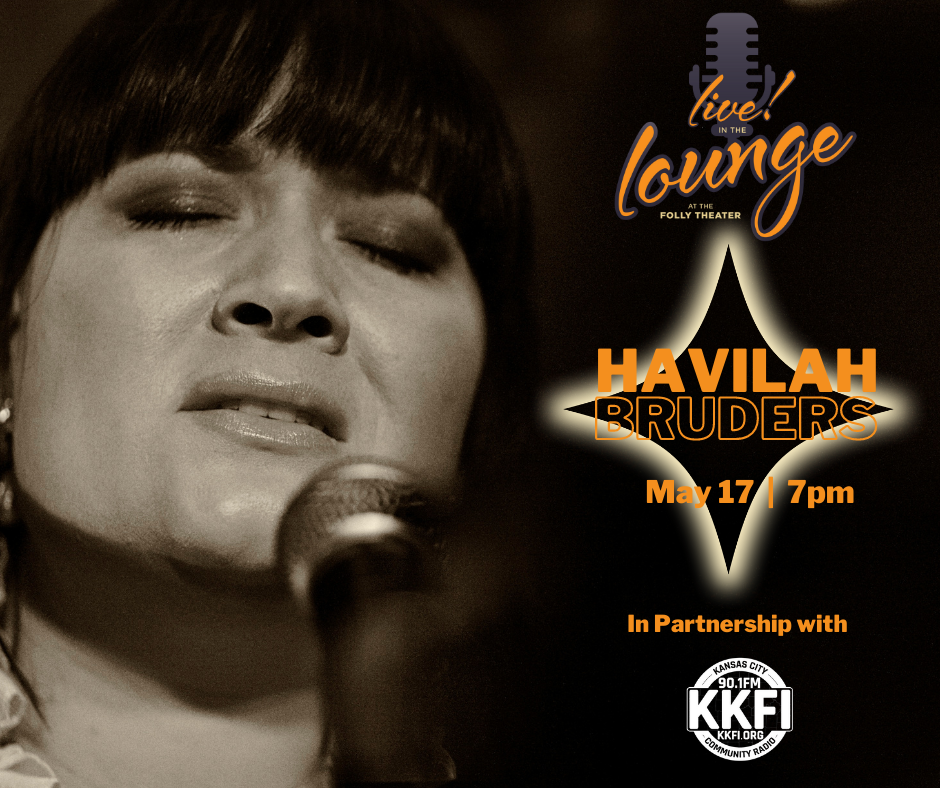 Havilah Bruders with Beau Bledsoe
Havilah Bruders was raised in a singing family and classically trained at William Jewell College. As a soulful, affecting vocalist with incredible range and versatility, Havilah has become one of Kansas City's most in-demand performers. She has an ability to perform jazz, blues, rock-n-roll, soul, gospel, classic country, bluegrass, folk, classical, choral and world music, like each is her sole focus. Havilah is a member of several bands, each one a different genre. She loves to collaborate with other artists and is a guest vocalist for many concerts and ceremonies all over the Greater Kansas City area. She performs jazz most frequently and has affection for the Great American Jazz Standards that she's adored since she was a girl. Improvisation in jazz allows Havilah the freedom to express how she feels the music in the moment, and tell the story in the song.
For many years, Havilah and her husband, Kristopher Bruders, fronted their Delta rock band, Cadillac Flambé. Their more recent group, Copper Threading, is an acoustic, vocal harmony heavy family affair that includes Havilah's sister, Kenese.
Havilah and Kris host "Here's to the Roots!", a local musician-appreciation showcase with open mic (formerly at Ollie's Local and now at PH Coffee) that fosters community and growth for musicians and supporters of live music in Kansas City.  They have two children, Georgia & Weston, who have been absorbing the musical life that surrounds them and who are becoming incredible talents themselves.
During the holiday season, Havilah performs at Christmas tree lightings and other festive events with "The Classic Christmas Carolers", a caroling quartet she founded with her sister and two cousin brothers. 
Havilah's future project to look out for is a Boswell Sisters-esque trio that includes her friend, Kandi Kos, and her sister, Kenese Cartwright.
COVID-19 Safety Protocols: Patrons are welcomed and encouraged to wear masks while inside the Folly Theater.  For the safety of others, we request that any patron who has tested positive for COVID-19 less than 7 days before the event, or who is currently experiencing COVID-related symptoms (including fever, nausea, coughing, shortness of breath, muscle or body aches, and/or loss of taste or smell) refrain from attending this event.
THANK YOU TO OUR SPONSORS
THE COPAKEN FAMILY FOUNDATION
JOHN W & EFFIE E SPEAS MEMORIAL TRUST, BANK OF AMERICA TRUSTEE