SHEKU KANNEH-MASON AND ISATA KANNEH-MASON
CELLIST AND PIANIST IN FREE DISCOVERY CONCERT
Part of the Harriman Jewell Series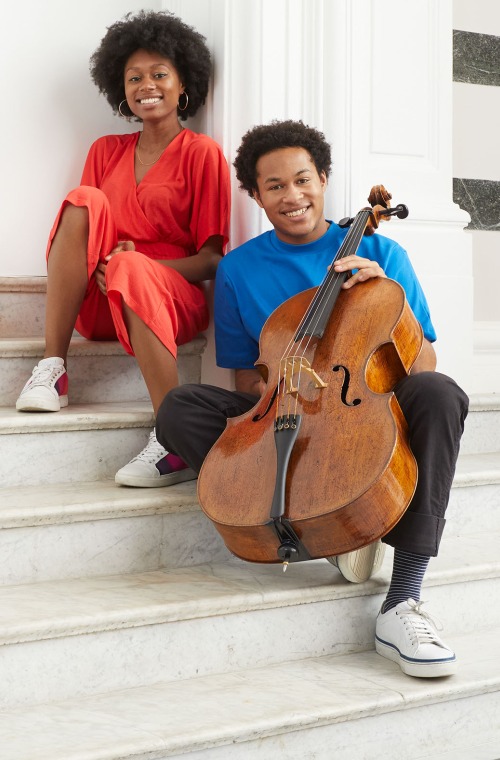 SHEKU KANNEH-MASON AND ISATA KANNEH-MASON, CELLIST AND PIANIST IN FREE DISCOVERY CONCERT
Part of the Harriman Jewel Series
Of the Series performances rescheduled from Season 55 to our Season 57, this is an exception—it was a Sunday snowstorm—not the pandemic that caused this concert to be postponed. One of our most anticipated Discovery Concerts ever will be performed as a Saturday family-matinee performance by siblings Sheku and Isata Kanneh-Mason.
Cellist Sheku Kanneh-Mason, age 21, and his sister, pianist Isata, age 24, are part of an exceptional family of seven children who are all accomplished classical musicians. In 2015 they appeared on Britain's Got Talent with his siblings. During the closures and shutdowns of the COVID pandemic, the Kanneh-Mason family further endeared themselves to a global audience by offering regular, free concerts on social media performed in their living room.
Sheku was winner of the 2016 BBC Young Musician of the Year contest in January 2018, his debut album for Decca hit No. 18 on the official U.K. album chart and number one on the classical chart. Sheku was a featured performer at the wedding of Prince Harry and Meghan Markle.
Isata's debut album, Romance, drew popular and critical acclaim, entering the UK classical charts at No. 1 when it was released in July 2019 and leading Gramophone magazine to extol the recording as "one of the most charming and engaging debuts."
Names are pronounced Sheku and Isata (Shay-Coo and EYE-zuh-tuh) Kanneh-Mason (Can-uh-May-son).
Harriman-Jewell Covid Requirements:
All patrons must show proof of full vaccination at the door, no exceptions.  Masks strongly encouraged.
We are not allowing for negative COVID tests results at this time.