The King's Singers
Part of the Harriman Jewel Series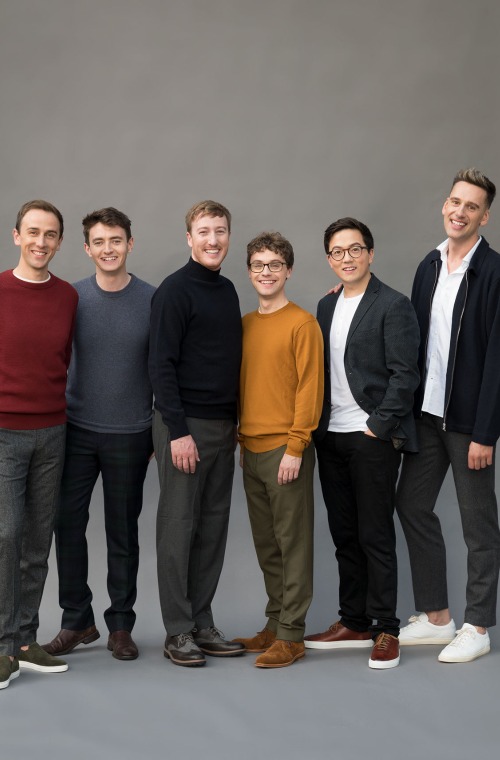 The King's Singers
Part of the Harriman Jewel Series
It's impossible to not feel good after a King's Singers concert. These six vocalists exhibit the highest standards of musicality and an ingratiating manner that has audiences captivated by their musicianship and charisma. Their program Finding Harmony features music from the 16th century to modern day that claims the common ground among nations, cultures, and causes. From William Byrd to Martin Luther to Mahalia Jackson, Finding Harmony offers music of hope and inspiration.
Gramophone magazine commended The King's Singers as "a musical group of the very highest order." While the ensemble's membership has changed over the years, what has remained constant since 1968 are the hale and hearty voices and British wit that have allowed The King's Singers to charm audiences with ease.
Program
I HAVE A DREAM
Mahalia Jackson, arr. Stacey V. Gibbs "If I can help somebody"
Harry Dixon Loes, arr. Stacey V. Gibbs "This little light of mine"
U2, arr. Bob Chilcott "M. L. K."
THE SINGING REVOLUTION
Urmas Sisask "Heliseb väljadel"
Gustav Ernesaks "Mu isamaa on minu arm"
Veljo Tormis "Pärismäälase lauluke"
THE MANY SOUNDS OF GEORGIA
King Demetrius I of Georgia "Shen khar venakhi"
Trad. "Tsintskaro"
Trad. "Shemokmedura"
LOST SONGS OF THE HIGHLANDS
Trad., arr. David Overton "Loch Lomond"
John Cameron, arr. James MacMillan "Chí mi na mórbheanna"
Trad., arr. Daryl Runswick "Puirt a' bheul: Amadan gorach" – "Tha Flonnlagh" – "Chuirinn air"
THE MUSICAL REFORMATION
Martin Luther and Johann Sebastian Bach "Ein feste Burg"
William Byrd "Civitas sancti tui"
Thomas Tallis "God, grant with grace"
SPEAR OF THE NATION
Trad., arr. Neo Muyanga Medley of South African Freedom Songs
THE PEOPLE LEFT BEHIND
Leyb Yampolsky, arr. Toby Young "S'Dremlen feygl"
IN OUR TIME
Finding Harmony ends with a selection of pieces in close harmony that show how music continues to unite societies in some of the struggles of today's world. Reflecting on moments as diverse as the Feminist Movement and the 2017 Manchester bombings, this concluding chapter is packed with brand new arrangements that show the prevailing power of music in the present day.
Harriman-Jewell Covid Requirements:
All patrons must show proof of full vaccination at the door, no exceptions.  Masks strongly encouraged.
We are not allowing for negative COVID tests results at this time.