Vi Tran LIVE! at the Lounge
A Partnership with KKFI
A Listening Series Supporting Local Artists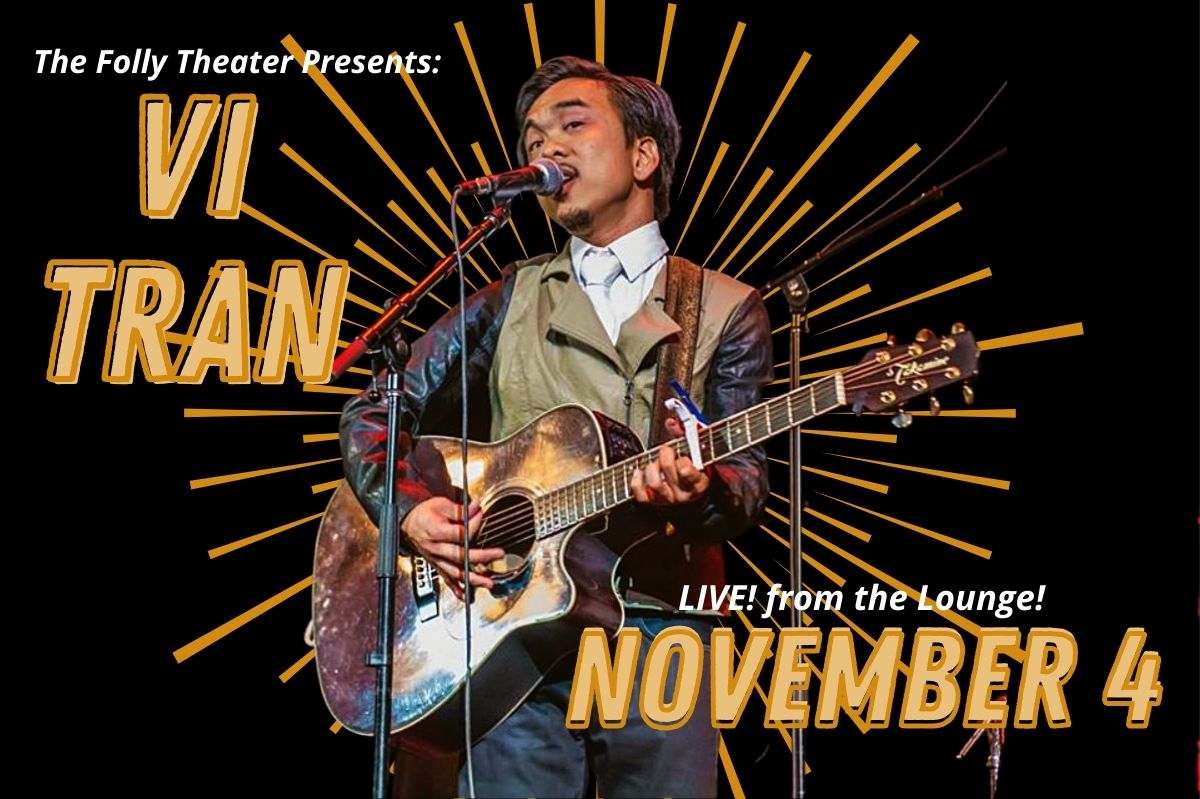 Vi Tran LIVE! at the Lounge
Vi Tran is a preacher's kid and the son of butchers. Born in the shadow of Sai Gon, Vietnam, and raised in the cattle country of southwestern Kansas, he's equal parts sea salt and wheat fields. Tran is best known as the founding owner and managing curator of The Buffalo Room performance event space and as the creator of The Butcher's Son, an autobiographical refugee story and folk musical memoir about his family's escape from Vietnam.
The Butcher's Son was nominated for 8 awards and winner of Most Promising Musical and Best Leading Performer (Tran) at Underscore Theatre Company's 2018 Chicago Musical Theatre Festival. Tran is recognized as a Charlotte Street Foundation Generative Performing Artist fellow and is the recipient of two ArtsKC Inspiration Grants and the Kansas Creative Industry Commission's Strategic Investment Grant in conjunction with NEA ArtWorks.
Vi Tran Band has opened for legendary rock band Kansas and is a fan favorite on Starlight Theatre's Applause Club Stage, having performed before such acts as Arcade Fire, Barenaked Ladies, Beck, Ben Folds, Counting Crows, KT Tunstall, Ray LaMontagne, Willie Nelson, and Violent Femmes.
Their full-length album American Heroine, a symphonic rock, folk, and Americana song cycle, was included on Best-of lists by Mark Manning (KKFI 90.1 FM) and Timothy Finn (Kansas City Star). Vi Tran Band has performed at The Midcoast Takeover in Austin, TX, where Tran was a featured interview in USA TODAY's coverage of SXSW.
As a storyteller, actor, singer-songwriter, composer, and playwright, Tran examines topics as varied as the unpacking of inherited cultural trauma among refugee populations living in diaspora to the dismantling of the toxic masculinity within the mythos of the Hemingway Hero. Using potent and empathetic storytelling about difficult subject matter but with the accessible and plainspoken straightforwardness of his southwestern Kansas roots, Tran's work presents a path to healing, hope, and unity in an ever-divided society.
Tickets on sale in October.  $22  Seating is limited.
Effective September 13, 2021
All individuals who enter the Folly Theater to attend public performances must provide proof of full COVID-19 vaccination OR proof of a negative COVID-19 test (within the last 72 hours), either by presenting a physical or digital copy.  We are not able to accommodate children under the age of two (2).  Masks will also be required at all times while inside the building.