Please join City in Motion Dance Theater on Saturday, February 1st, at 8 pm for our seventeenth annual presentation of "A Modern Night at the Folly". As always, this showcase will be held at the C. Stephen Metzler Hall at the newly renovated Folly Theater, located at 300 W. 12th St, in Downtown Kansas City. Kansas City's first adjudicated choreographers' showcase will celebrate contemporary and modern dance in Kansas City by featuring new works from the region's most talented choreographers.
Each choreographer has set their work on dance professionals from all over the region making, "A Modern Night at the Folly" a unique opportunity for audience members to experience a variety of dance styles performed by proficient dancers who have come together in one exceptional night of the performance.
---
Tickets
$25 in advance | $18 for students & seniors
$35 day of show
---
**This event is presented by a rental client. The content of this event does not necessarily reflect the views or opinions of the Folly Theater, its staff, or the board of directors.

Saturday February 01, 2020

8:00 PM

$25 in advance | $35 day of show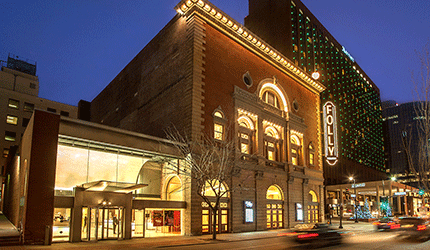 LOCATION
The Folly Theater
300 West 12th Street
Kansas City, MO 64105
Ticket Office 816.474.4444