The 37th Annual Folly Jazz Series presents
An Evening with Branford Marsalis
Friday, October 4th at 8 PM
JazzTalk at 7 PM with STEVE KRASKE of KCuR's Up-to-Date
(No intermission per artist's request)
---
Saxophonist Branford Marsalis is one of the most influential and respected figures in contemporary music. The NEA Jazz Master, Grammy Award winner and Tony Award nominee is equally at home performing concertos with symphony orchestras and sitting in with members of the Grateful Dead, but the core of his musical universe remains the Branford Marsalis Quartet. After more than three decades of existence with minimal personnel changes, this celebrated ensemble is revered for its uncompromising interpretation of a kaleidoscopic range of both original compositions and jazz and popular classics.
After the Grammy-nominated Upward Spiral, on which guest vocalist Kurt Elling was seamlessly integrated into the group, the Quartet has followed up with The Secret Between the Shadow and the Soul, its most emotionally wide-ranging and melody driven collection to date. John Zeugner captured the impact of the Quartet in a live performance in a recent concert review, calling it "casually confident, professional, cerebral, and supercharged with energy. The Branford Marsalis Quartet…was all of those adjectives and more."
---
Band Line-Up
Branford Marsalis – Saxophone
Joey Calderazzo – Piano
Eric Revis – Bass
Justin Faulkner – Drums
Tickets are $20, $30, $40, and $55
Interested in joining the ranks of the Folly Jazz Season Ticket Holders? Learn more here.
This performance is a part of the Folly Jazz Series. You can see the full series line-up here.

Friday October 04, 2019

8:00 PM

$20, $30, $40, & $55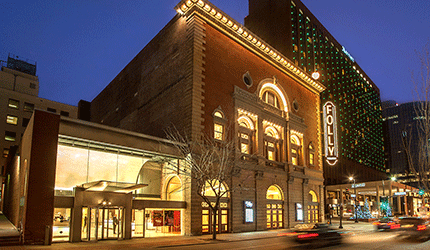 LOCATION
The Folly Theater
300 West 12th Street
Kansas City, MO 64105
Ticket Office 816.474.4444