The Folly Jazz Series presents
Anat Cohen Quartetinho
featuring Vitor Gonçalves, Tal Mashiach, and James Shipp
Saturday, February 12th at 8 PM
---
Ever charismatic, prolific and inspired, Grammy-nominated clarinetist-saxophonist Anat Cohen has won hearts and minds the world over with her expressive virtuosity and delightful stage presence. As The Wall Street Journal says, "What's not to love about a young clarinetist and saxophonist who plays everything we love – modern jazz, world music, "hot" New Orleans style jazz – and does it all brilliantly?"
The perennial winner of "Clarinetist of the Year" titles from DownBeat, JazzTimes, and the Jazz Journalists Association, Fresh Air's Terry Gross credits Cohen with "bringing the clarinet to the world" and The New York Times hails her a "Master."
A unique blend of modern and traditional jazz, classical music, Brazilian choro, Argentine tango, and an expansive timeline of Afro-Cuban styles, the Anat Cohen Quartet is a musical tour-de-force that propels the clarinet to its rightful place at the forefront of jazz. Performing repertoire spanning Anat's career and deep catalog of recordings, the Quartet has been Anat's core ensemble through the years.
---
Band Line-Up
Anat Cohen
Vitor Gonçalves
Tal Mashiach
James Shipp
Tickets are $20, $30, $40, and $55
Interested in joining the ranks of the Folly Jazz Season Ticket Holders? Learn more here.
This performance is a part of the Folly Jazz Series. You can see the full series line-up here.
The Folly thanks the generous sponsors of the 38th Folly Jazz Series

Saturday February 12, 2022

8:00 PM

$20, $30, $40, & $55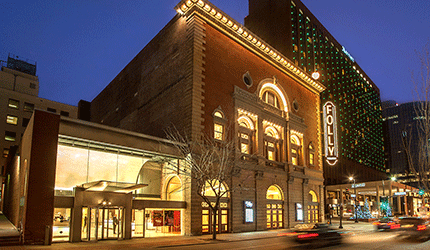 LOCATION
The Folly Theater
300 West 12th Street
Kansas City, MO 64105
Ticket Office 816.474.4444