THIS EVENT IS AWAITING ITS RECAST DATE CONFIRMATION; ITS ORIGINAL DATE WILL CHANGE DUE TO COVID-19 CONCERNS.
---
Countertenors were opera superstars in the 18th century, and after hearing countertenor Anthony Roth Costanzo, one understands why. Costanzo has an electric personality and powerful voice that have landed him many roles at the Metropolitan Opera, including memorable turns in The Enchanted Island and Akhnaten. The New York Times calls him "vocally brilliant and dramatically fearless." As more people rediscover the compelling power of the countertenor's voice, opera companies around the world are seeking out Anthony Roth Costanzo.
He sang on Broadway and as a backup for pop stars in his youth, later graduating magna cum laude from Princeton. Costanzo placed first in the Metropolitan Opera's National Council Auditions in 2009 and earned the top award at the prestigious Operalia competition in 2012. With supreme self-assuredness and a flair for the dramatic, the 2019 Musical America "Vocalist of the Year" brings the countertenor repertoire alive for present-day audiences. Bryan Waghorn is the collaborative pianist for this recital.
---
Tickets may not yet be available online. Contact the Harriman-Jewell Series Box Office for more information.
---
The Folly Theater Box Office does not handle ticket sales for this event. Please click the buy tickets to be directed to the ticketing page or contact the Harriman-Jewell Series Box Office at 816-415-5025.
**This event is presented by a rental client. The content of this event does not necessarily reflect the views or opinions of the Folly Theater, its staff, or the board of directors.

Tuesday September 01, 2020

7:30 PM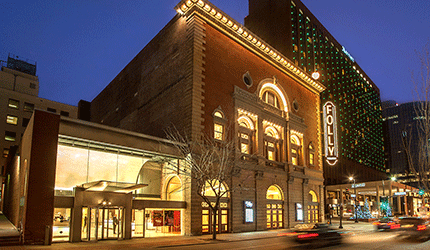 LOCATION
The Folly Theater
300 West 12th Street
Kansas City, MO 64105
Ticket Office 816.474.4444