Bach Aria Soloists returns to one of its most acclaimed programs when it presents
Night of Tango with two world-class masters of the genre, bandoneónist Héctor Del Curto — 2018 Grammy winner for Best Latin Jazz Album — and Latin Grammy-nominated pianist Gustavo Casenave.
Night of Tango will feature the beloved quintet classics by Astor Piazzolla, Argentina's most famous composer and virtuoso bandoneónist who revolutionized Tango and remains a towering figure more than 25 years after his death.


Del Curto and Casenave will be joined by Elizabeth Suh Lane (violin) and Beau Bledsoe (guitar) of Bach Aria Soloists and bassist Jeff Harshbarger.
**This event is presented by a rental client. The content of this event does not necessarily reflect the views or opinions of the Folly Theater, its staff, or board of directors.

Saturday April 21, 2018

7:30 PM

$20, $35, $45, $50, $60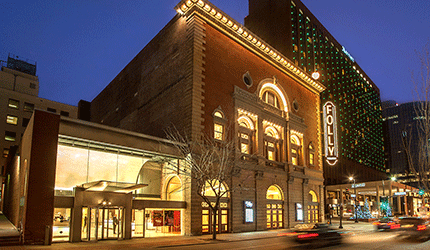 LOCATION
The Folly Theater
300 West 12th Street
Kansas City, MO 64105
Ticket Office 816.474.4444