Due to the recent ban on events over 50 people until May 10th, this event has been postponed. Please contact the Kansas City Jazz Orchestra for any questions regarding ticketing, etc.
Join The Kansas City Jazz Orchestra for a celebration of the centennial of Charlie Parker's birth. Featuring music from Bird's most iconic album, Bird with Strings, as well as numerous other Charlie Parker tunes, this concert will honor the musical genius of one of Kansas City's most influential musicians. Joining the KCJO for this celebration are three renowned saxophonists: David Valdez, Jaleel Shaw, and Bobby Watson. Parker's vibrant music and lasting legacy will be brought to life by these acclaimed musicians in the beautiful Folly Theater. 
All proceeds from this event benefit the mission of The Kansas City Jazz Orchestra: Through performances and education programs, The Kansas City Jazz Orchestra preserves the rich heritage of jazz, nurtures its growth, and encourages its appreciation as an art form for all ages.
---
Tickets
$35 – $75
$10 for Students | 1 Ticket per Student ID
---
**This event is presented by a rental client. The content of this event does not necessarily reflect the views or opinions of the Folly Theater, its staff, or the board of directors.

Saturday April 04, 2020

8:00 PM

$35 - $75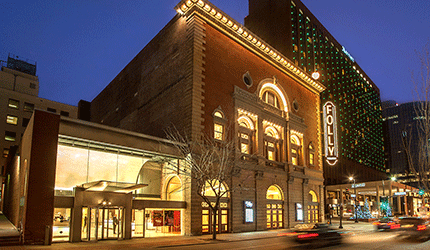 LOCATION
The Folly Theater
300 West 12th Street
Kansas City, MO 64105
Ticket Office 816.474.4444