From the Presenter: "After much consideration, we have decided as a result of COVID-19 and the necessary mandates for seating and safety, we are going to postpone Carolanne Miljavac's "She Laughs" and Darren Knight's "Southern Momma" comedy shows until spring 2021.  Carolanne's new date will be 3-12-21 and Darren's will be 3-13-21.  This was not an easy decision to make but we feel in order to give the best show possible for everyone who come to see Carolanne and Darren, we need to wait for regulations to be more flexible.  All ticket holders who are unable to attend the new dates may contact [email protected] for a refund by December 16th.  Tickets will be honored for anyone able to attend the new 2021 dates. Thank you for your patience during this time."
---
Bang Productions presents Carolanne Mijavac's "She Laughs" Comedy Tour featuring Comedian Gerard Haran. The show is produced by John Edmonds Kozma.
"Humorous. Authentic. Relatable. That's Carolanne Miljavac in a nutshell." Carolanne is married with three kids residing in Saint Joseph, MO. She has cultivated a massive online presence across multiple social media platforms and has become the "go-to girl" for a good laugh, encouragement, loving truths, and vulnerability. Her purpose in life is to spread laughter and joy without sacrificing honesty and truth – something that has resonated with her fans internationally.
Her new book "SHE LAUGHS!" In the face of. . .Poverty. Grief. Brokenness. Disaster. Hopeless Situations. Life's Struggles. And you can too! She believes with all her heart that laughter is a gift, providing a sliver of distraction from whatever struggle you might be facing. . .relief when you need rescuing. . .hope in the midst of hardship.
Comedian Gerard Haran is a rising star in the NYC comedy scene and former minor league baseball player. Gerard is a "BIGGER THAN LIFE CHARACTER" who relates living his big life to POP CULTURE today.
---
Unfortunately due to the ongoing capacity restrictions placed on performing arts venues for the foreseeable future, the promoter has decided to cancel this performance. Because of this, all patrons will be refunded the cost of their tickets. You DO NOT need to contact us in order to receive a refund. These will be automatically processed for all patrons who held tickets to this event. For security purposes, all refunds will be issued as checks. You should see them in your mailbox within 3 weeks of January 29, 2021. If you have any issues receiving this, or if you have moved since the time of purchase, please give our box office a call at 816-768-6881 or email [email protected].
---
**This event is presented by a rental client. The content of this event does not necessarily reflect the views or opinions of the Folly Theater, its staff, or the board of directors.

Friday March 12, 2021

8:00 PM

$20 - $30 [+FEES]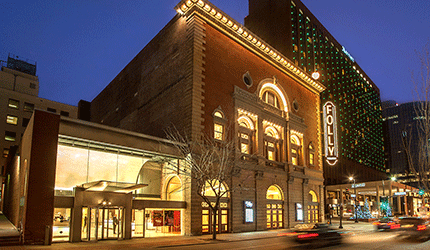 LOCATION
The Folly Theater
300 West 12th Street
Kansas City, MO 64105
Ticket Office 816.474.4444