FREE DISCOVERY CONCERT: Sheku and Isata Kanneh-Mason were to play a free concert on December 15, 2019 for the Harriman-Jewell Series. Due to a snowstorm and dangerous road conditions, the performance didn't happen. Harriman-Jewell Series staff is very pleased to announce this rescheduled concert.
Cellist Sheku Kanneh-Mason (pronounced SHAY-coo Can-nay-May-son) is already a star in Great Britain, but he's waiting to be discovered on this side of the Atlantic. Winner of the 2016 BBC Young Musician of the Year contest in January 2018, his debut album for Decca hit No. 18 on the official U.K. album chart and number one on the classical chart. The 20-year-old cellist is from an exceptional family of seven children who are all accomplished classical musician. In 2015 he appeared on Britain's Got Talent with his siblings and he was a featured performer at the wedding of Prince Harry and Meghan Markle. Like his musical heroes Mstislav Rostropovich and Bob Marley, Kanneh-Mason connects with audiences on a deep, soulful level.
Pianist Isata Kanneh-Mason's debut album, Romance, drew popular and critical acclaim, entering the UK classical charts at No. 1 when it was released in July 2019 and leading Gramophone magazine to extol the recording as "one of the most charming and engaging debuts" and Classic FM to praise Isata as "a player of considerable talent." Isata (pronounced EYE-zuh-tuh) recorded the all-Clara Schumann disc for Decca Classics as an homage to the composer and pianist in the year of what would have been her 200th birthday, selecting works from across her compositional output including solo piano pieces, a sonata, chamber music with violinist Elena Urioste (Urioste is a Discovery Concert artist presented by the Harriman-Jewell Series in 2013).
---
Tickets may not yet be available online. Contact the Harriman-Jewell Series Box Office for more information.
---
The Folly Theater Box Office does not handle ticket sales for this event. Please click the buy tickets to be directed to the ticketing page or contact the Harriman-Jewell Series Box Office at 816-415-5025.
**This event is presented by a rental client. The content of this event does not necessarily reflect the views or opinions of the Folly Theater, its staff, or the board of directors.

Saturday April 30, 2022

3:00 PM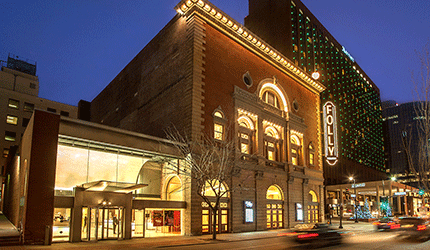 LOCATION
The Folly Theater
300 West 12th Street
Kansas City, MO 64105
Ticket Office 816.474.4444