Given COVID-19 and the resulting regulations for seating and safety, we have decided to postpone the Charlie "Bird" Parker 100! concert until 2021. All ticket holders will be contacted over the next two weeks regarding donating the cost of their tickets or receiving refunds. Please keep an eye on our social media and FollyTheater.org for the announcement of the new date later this year!
---
Celebrate the 100th birthday of the Kansas City jazz icon, Charlie Parker with
Charlie "Bird" Parker 100!
with Dan Thomas and the Kansas City All Star Band
featuring many special guests!
We're joining KC Jazz ALIVE and other arts organizations in Kansas City in a weeklong celebration of Charlie Parker!
We're throwing a birthday bash at the Folly Theater for the iconic Kansas City jazz musician, Charlie "Bird" Parker on Saturday, August 29th! Led by Dan Thomas, the Kansas City All Star Band will take the stage to play some big band tributes to Bird including his early music, his top hits, and some pieces from his crossover into Afro-Cuban jazz. The group is also working on some never-before-heard pieces written specifically for this concert! Expect collaborations and appearances from other local jazz artists during this special program.
Find more Charlie Parker Celebration events at SpotlightCharlieParker.org
This concert is made possible in part due to funding from Theater League, Inc. & KC Jazz ALIVE.
More to come over the next few weeks!
Find more jazz shows at the Folly Jazz Series!
---
Tickets
Available Friday, May 8th
$20, $30, $40, and $55
---
We thank the generous sponsors of this concert

Saturday August 29, 2020

8:00 PM

Canceled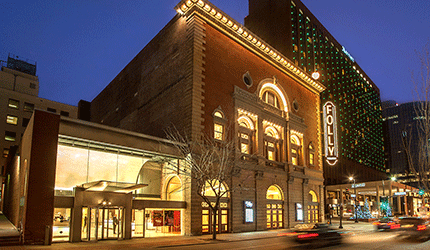 LOCATION
The Folly Theater
300 West 12th Street
Kansas City, MO 64105
Ticket Office 816.474.4444