POSTPONED: March 12, 2020, recital by pianist Daniil Trifonov
The Harriman-Jewell Series is following public officials' advice related to coronavirus concerns and will postpone the recital originally scheduled for this evening at the Folly Theater.
The Harriman-Jewel Series is working with Mr. Trifonov's management to reschedule.
Series staff will follow up with ticket holders when we have more information to share. Be well.
The Times (London) calls Daniil Trifonov "without question the most astounding pianist of our age." In 2011, he won the First Prize and Grand Prix at the International Tchaikovsky Competition. Trifonov has since acquired a mountain of awards and has performed with every major orchestra in the world. This will be his Harriman-Jewell Series debut.
Many pianists are good at winning competitions, but Trifonov is so much more than that. The New Yorker's Alex Ross wrote that "Daniil Trifonov creates a furor. …as did Vladimir Horowitz… Paderewski… Sviatoslav Richter… the young Martha Argerich." Argerich herself is a fan of Trifonov. She said that what he "does with his hands is technically incredible. It's also his touch—he has tenderness and also the demonic element. I never heard anything like that."
PROGRAM
Bach/Brahms Chaconne
Bach/Rachmaninoff Prelude, Gavotte, and Gigue
Bach/Liszt Fantasie & Fugue in G minor
Bach The Art of Fugue
---
Single ticket prices: $31.00 $36.50 $51.50 $61.50 $71.50 $81.50.
---
The Folly Theater Box Office does not handle ticket sales for this event. Please click the buy tickets to be directed to the ticketing page or contact the Harriman-Jewell Series Box Office at 816-415-5025.
**This event is presented by a rental client. The content of this event does not necessarily reflect the views or opinions of the Folly Theater, its staff, or board of directors.

Thursday March 12, 2020

7:30 PM

POSTPONED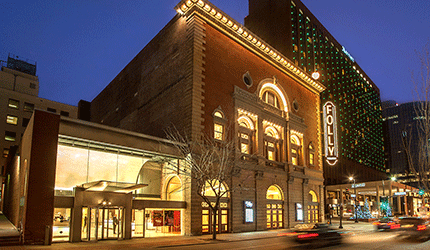 LOCATION
The Folly Theater
300 West 12th Street
Kansas City, MO 64105
Ticket Office 816.474.4444