From the Presenter: "After much consideration, we have decided as a result of COVID-19 and the necessary mandates for seating and safety, we are going to postpone Carolanne Miljavac's "She Laughs" and Darren Knight's "Southern Momma" comedy shows until spring 2021.  Carolanne's new date will be 3-12-21 and Darren's will be 3-13-21.  This was not an easy decision to make but we feel in order to give the best show possible for everyone who come to see Carolanne and Darren, we need to wait for regulations to be more flexible.  All ticket holders who are unable to attend the new dates may contact [email protected] for a refund by December 16th.  Tickets will be honored for anyone able to attend the new 2021 dates. Thank you for your patience during this time."
---
Bang Productions presents Darren Knight's Southern Momma An Em Comedy Show featuring Comedians Red Squirrel and Gary Cargal with DJ Slim McGraw. The show is produced by John Edmonds Kozma.
Darren Knight, aka Southern Momma from Munford, Alabama, is the fastest rising comedian in American history. In just a few short months, he has cultivated a massive online presence, accumulating over half a billion views across multiple social media platforms. Darren takes his persona to the stage, selling out theatres and casinos nationwide. He's been compared to Jeff Foxworthy, as the next star of redneck comedy. Dee Jay Slim McGraw bred on music that's slow-roasted and deep-fried like his Southern roots!
Slim McGraw has opened for Brett Eldredge, Lee Brice, Randy Houser, Dylan Scott, and shared the stage with The Chainsmokers, Calvin Harris, Nelly, Flo Rida among others. When in Nashville you can find him on Broadway playing at Jason Aldean's Rooftop Bar, Luke Bryan's 32 Bridge and Florida Georgia Line's FGL House. Back home in Charlotte, the non-stop DJ is a resident at Whisky River owned by NASCAR legend Dale Earnhardt, Jr. He recently was honored to perform at Dale Jr's retirement party with Kid Rock, Cole Swindell & Billy Currington.
---
Unfortunately due to the ongoing capacity restrictions placed on performing arts venues for the foreseeable future, the promoter has decided to cancel this performance. Because of this, all patrons will be refunded the cost of their tickets. You DO NOT need to contact us in order to receive a refund. These will be automatically processed for all patrons who held tickets to this event. For security purposes, all refunds will be issued as checks. You should see them in your mailbox within 3 weeks of January 29. 2021. If you have any issues receiving this, or if you have moved since the time of purchase, please give our box office a call at 816-768-6881 or email [email protected].
---
**This event is presented by a rental client. The content of this event does not necessarily reflect the views or opinions of the Folly Theater, its staff, or the board of directors.

Saturday March 13, 2021

8:00 PM

$25 - $45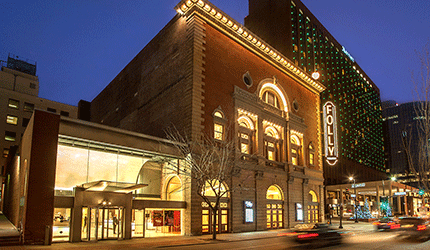 LOCATION
The Folly Theater
300 West 12th Street
Kansas City, MO 64105
Ticket Office 816.474.4444