The Folly Jazz Series presents
David Benoit Christmas Tribute to Charlie Brown
with Special Guest TBD 
Saturday, December 10th at 8 PM
---
The Grammy-nominated pianist, composer, and arranger David Benoit has reigned supreme as one of the founding fathers of contemporary jazz. Benoit was born in Bakersfield, CA, and grew up in Los Angeles. He was bitten by the jazz bug after watching a Charlie Brown special on TV and listening to the music of Vince Guaraldi in 1965.
"I was already a fan of the comic strip," Benoit says, "but when I heard that jazz piano trio, that was the defining moment when I decided that I wanted to play like Vince Guaraldi."
David has had multiple tracks at the top of Billboard's Contemporary Jazz Charts, received three Grammy nominations in Best Contemporary Jazz Performances, Best Large Ensemble Performance, and Best Instrumental Composition. He went on to receive a Lifetime Achievement Award from the American Smooth Jazz Awards and score many movies.
According to Jazz FM, "If you get a chance to see James Tormé you should beg, borrow, even steal a ticket". Son of one of the all-time great jazz vocalist, composer, arranger, and three-time Grammy Award winner Mel Tormé. James grew up spending time with a myriad of Jazz Legends such as Ell Fitzgerald, George Shearing, Buddy Rich, Peggy Lee, and Duke Ellington. James' smooth singing style draws from the "old school", but has a very modern versatility and interpretation of his own where his clean-toned vibrato, Jazz sensibilities, and charismatic stage presence are fast making this multi-award-winning singer one of the most talked-about artists of his
---
Band Line-Up
Tickets are $20, $30, $40, and $55
Interested in joining the ranks of the Folly Jazz Season Ticket Holders? Learn more here.
This performance is a part of the Folly Jazz Series. You can see the full series line-up here.
The Folly thanks the generous sponsors of the 38th Folly Jazz Series

Friday December 10, 2021

8:00 PM

Postponed until next December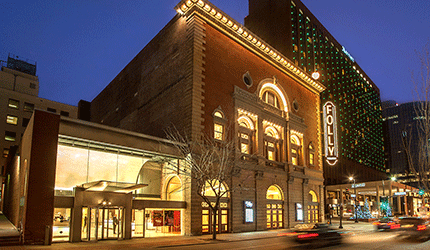 LOCATION
The Folly Theater
300 West 12th Street
Kansas City, MO 64105
Ticket Office 816.474.4444