Folly Frolic Benefit Concert
Featuring local blues & country musicians
Kelley Hunt & Kelly Hunt
Saturday, November 21st, 2020 | 7:30 PM
Sponsorships Are Still Available
Individual Tickets Available on October 12th at 10 AM
**Limited Quantity of Tickets are Available
On Saturday, November 21st at The Folly Theater if you ask the question "what's in a name?" the answer will be "everything". The Folly is proud to present the first formal on-stage convergence of two brilliant artists from our home area – that just happen to have the same phonetic name.
There is iconic Roots/Blues/Americana singer-songwriter keyboardist Kelley Hunt, with a highly decorated multi-decade international career and who has filled The Folly on several memorable nights. And there is Folk/Americana singer-songwriter banjo player Kelly Hunt, who's star has been rising rapidly on the international Folk scene since the May 2019 release of her critically acclaimed debut album "Even The Sparrow".
This show is a study in evocative complements and contrasts, inspired, skilled songwriting coming from very different stylistic directions, and a collaboration of two soulful artists who are also friends and fans of each other….and just happen to answer to the same name.
---
** There are limited quantities of tickets available. All patrons will be seated at 6 ft. apart and masks will be required at all times while in the Folly.

Saturday November 21, 2020

7:30 PM

$25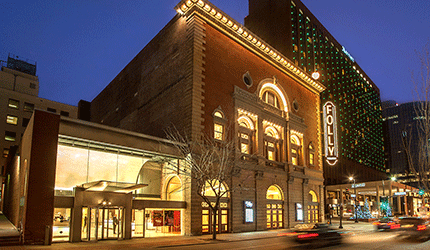 LOCATION
The Folly Theater
300 West 12th Street
Kansas City, MO 64105
Ticket Office 816.474.4444