THIS EVENT IS AWAITING ITS RECAST DATE CONFIRMATION; ITS ORIGINAL DATE WILL CHANGE DUE TO COVID-19 CONCERNS.
---
Just 19, Swedish violinist Johan Dalene has already won first prize in the prestigious 2019 Carl Nielsen Competition. And Dalene is in-demand, frequently touring Europe, especially the Scandinavian countries. But the remarkable young musician is starting to venture to North America more, now we can marvel at this amazing talent.
Dalene started playing the violin when he was four. When he was seven, he made his professional concerto debut. His performance of the Tchaikovsky Violin Concerto with the Cleveland Orchestra earned him first prize in the Thomas and Evon Cooper International Violin Competition in Oberlin, and he has just recorded the Tchaikovsky and Barber concertos for the Bis label. Dalene plays a 1736 Stradivarius violin, giving his performances an added touch of magic.
---
THIS EVENT IS FREE TO THE PUBLIC. TICKETS MAY BE REQUESTED ONLINE BEGINNING TWO MONTHS BEFORE THE CONCERT.
---
The Folly Theater Box Office does not handle ticket sales for this event. Please click the buy tickets to be directed to the ticketing page or contact the Harriman-Jewell Series Box Office at 816-415-5025.
**This event is presented by a rental client. The content of this event does not necessarily reflect the views or opinions of the Folly Theater, its staff, or the board of directors.

Friday May 14, 2021

7:00 PM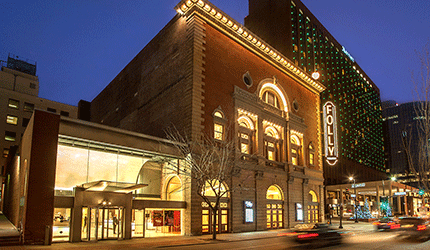 LOCATION
The Folly Theater
300 West 12th Street
Kansas City, MO 64105
Ticket Office 816.474.4444