This performance has been moved from its original date due to the COVID-19 Epidemic. We will work with all ticket purchasers and Season Ticket Holders over the next few weeks to help manage any ticketing questions.
Please note that this concert is NOT a part of the 40th Folly Jazz Series
---
The Annual Folly Jazz Series presents
John Pizzarelli Trio for Centennial Reasons:
100 Year Salute to Nat King Cole
Saturday, September 17th at 8 PM (New Date)
---
World-renowned guitarist and singer John Pizzarelli has been hailed by the Boston Globe for "reinvigorating the Great American Songbook and re-popularizing jazz." The Toronto Star pegged him as "the genial genius of the guitar." And the Seattle Times saluted him as "a rare entertainer of the old school."
John Pizzarelli recently released his new album, For Centennial Reasons: 100 Year Salute to Nat King Cole on Ghostlight Deluxe, an imprint of Ghostlight Records. Following high-profile collaborations with Sir Paul McCartney and Michael McDonald, Pizzarelli returns to his roots to honor his hero, the legendary jazz/pop vocalist and pianist Nat King Cole, whose centennial is being celebrated around the world this year with various concerts, books, and recordings. For Centennial Reasons… completes an epic trio of Pizzarelli albums saluting Cole, starting with "Dear Mr. Cole", which helped put Pizzarelli on the map as an influential jazz guitarist and singer in 1994, and continuing with "P.S. Mr. Cole", which cemented his legacy five years later.
---
Band Line-Up
John Pizzarelli – Guitars & Vocals
Mike Karn – Bass
Konrad Paszkidzki – Piano
Tickets are $20, $30, $40, and $55
**Please note that this concert is not a part of the 40th Folly Jazz Series*
---
The Folly thanks the generous sponsors of the Folly Jazz Series

Friday September 17, 2021

8:00 PM

$20, $30, $40, & $55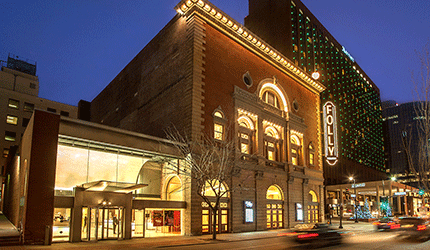 LOCATION
The Folly Theater
300 West 12th Street
Kansas City, MO 64105
Ticket Office 816.474.4444