Due to the COVID-19 pandemic and the resulting regulations, as well as our concern for our staff, volunteers, and patrons, this concert has been moved to October 9, 2021. If you have a ticket and are able to attend the new date, you don't need to take any further actions as your tickets will be updated. If you can't attend the new date, you have the option to donate the cost of your tickets back to the Folly or request a refund.
---
The Folly Jazz Series presents
Karrin Allyson
Saturday, October 9th at 8 PM
---
Vocalist, pianist, and songwriter Karrin Allyson is a five-time Grammy Award nominee, originally from Kansas, now living in New York City. Karrin has traveled the globe playing clubs, festivals, performing arts centers, and beyond.
Allyson's impressive discography culminated in 2018 with the release of Some of That Sunshine, her first collection of all-original tracks and a further testament to her already impressive creative output. Christopher Loudon writes in Jazz Times, "With Some of That Sunshine, Allyson unleashes her equally impressive dexterity as a songwriter."
With fifteen albums released so far and always more exciting projects in the works, Karrin's range and creativity seem to have no bounds. What unites this wide world of music is Allyson's warmth and depth. She's not just singing a lyric; she's telling you her story. And then that becomes your story. You hear the music from the inside out.
---
Band Line-Up
Karrin Allyson – Vocals & piano
Miro Sprague – Piano & Rhodes
Rod Fleeman – Guitar
Bob Bowman – Bass
Jerome Jennings – Drums
Tickets are $20, $30, $40, and $55
Interested in joining the ranks of the Folly Jazz Season Ticket Holders? Learn more here.
This performance is a part of the Folly Jazz Series. You can see the full series line-up here.
The Folly thanks the generous sponsors of the 38th Folly Jazz Series

Saturday October 09, 2021

8:00 PM

$20, $30, $40, & $55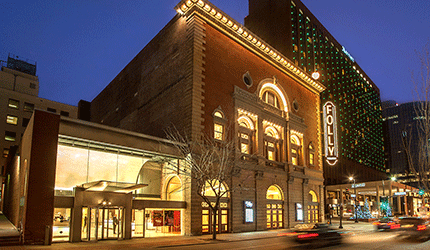 LOCATION
The Folly Theater
300 West 12th Street
Kansas City, MO 64105
Ticket Office 816.474.4444