THIS EVENT IS AWAITING ITS RECAST DATE CONFIRMATION; ITS ORIGINAL DATE WILL CHANGE DUE TO COVID-19 CONCERNS.
---
When Khatia Buniatishvili gave her Kansas City debut at the Folly in April 2019, she brought down the house with a bravura performance of Schubert and Liszt. The French-Georgian pianist more than lived up to her hype as one of the most exciting classical musicians performing today. While rooted in the great romantic piano tradition, Buniatishvili has a distinctive sound that is dark and passionate.
Buniatishvili was only six when she performed with the Tbilisi Chamber Orchestra, and she's been leaving critics and audiences in amazement ever since. Her recitals are events that can make the heart race. With a powerful, virtuoso technique and a charismatic stage presence, Buniatishvili hearkens back to great pianists of the 19th century "playing straight from the heart," (The Guardian U.K).
---
Tickets may not yet be available online. Contact the Harriman-Jewell Series Box Office for more information.
---
The Folly Theater Box Office does not handle ticket sales for this event. Please click the buy tickets to be directed to the ticketing page or contact the Harriman-Jewell Series Box Office at 816-415-5025.
**This event is presented by a rental client. The content of this event does not necessarily reflect the views or opinions of the Folly Theater, its staff, or the board of directors.

Monday April 12, 2021

7:30 PM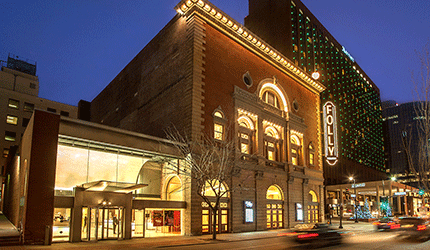 LOCATION
The Folly Theater
300 West 12th Street
Kansas City, MO 64105
Ticket Office 816.474.4444