Join us for the KKFI 30th Anniversary celebration on our historic stage on June 30th!
KKFI will bring DJ's both past and present to perform and speak.
Celebrating our unique diversity and KKFI's history!
2 House Bands:   OneLed by Clint Ashlock (Director of KC Jazz Orchestra)
One Led by Michelle Bacon (Director of The Band Who Fell to Earth)
One Song From:  The Elders, Julia Othmer, Sara Morgan, Kemet the Phantom, Kadesh Flow,
Una Walkenhorst, Cubanisms, Pablo Sanhueza, Ernest James Zydeco Duo,
Bob & Diana Suckiel, Jason Vivone, Gerald Trimble & Jambaroque, Junebug,
Robert Rodriguez of Steele Road Band with Greg Conchola, and Rosie's Bar & Grill
MANY MORE TO COME…
VIP Reception:     Four Score with a Special Guest Collaboration
30th Celebration will kick off with a catered VIP Reception in the Shareholders Room of the Folly Theater. A chance to mingle with KKFI DJs & Hosts and enjoy complimentary cuisine and libations.
The onstage presentation will begin at 7:15 with a KKFI History Presentation and Panel of Founders, followed at 8 pm with a showcase of regional artists. We will recreate the diversity of programming live onstage with two all-star bands backing up at least 15 different artists from other bands. Between performances, KKFI Hosts will be side stage in an old-school radio show format introducing the artist and having a great time.
Schedule:
6:00 VIP Reception
7:00 GA Doors
7:15 KKFI History Presentation
8:00 Diverse Artists w/ an All-Star KC Band
9:00 Intermission
9:10 Diverse Artists w/ another All-Star KC Band
10:30 All-Star Jam
KKFI's last performance at the Folly Theater, Collaborations! Live at the Folly Theater, was a huge hit bringing together diverse artists from Kansas City! This performance promises to be just as exciting. Make sure to grab your tickets today!
VIP is still available at $120 for Boxes and $90 for Orchestra Rows A – C. General tickets range $15 to $30.
There is a $3 fee applied to all tickets, regardless of purchase over the phone, online, or in person.
Hotel Rooms Discounts
Kansas City Marriott Downtown (directly across the street from the Folly Theater)
Click Here
 and reserve your room $149 per night (Normally $299)
*Important Notes* 
Simply present your printed tickets when you check in to your room for the discounted rate
Rooms are only available while they last (big convention in town that weekend)
The rate is only good for 
June 30th, 2018
Please join us in celebrating KKFI's History and perseverance while enjoying the artistry created right here in our hometown
**This event is presented by a rental client. The content of this event does not necessarily reflect the views or opinions of the Folly Theater, its staff, or board of directors.

Saturday June 30, 2018

7:00 PM

GA: $15 - $30 | VIP: $90 & $120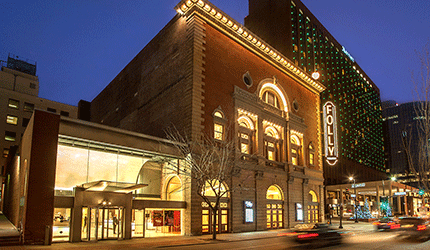 LOCATION
The Folly Theater
300 West 12th Street
Kansas City, MO 64105
Ticket Office 816.474.4444