June 30th, 2017 – 6p to 10:30p
A Fundraiser for KKFI 90.1FM, Kansas City Community Radio
The night begins with a VIP Reception in the Folly Board Room with appetizers and cocktails between 6 pm and 7 pm.  The On-Stage portion of the night will begin at 7 pm with a panel discussion on the nature of collaboration in today's artistic world.  Collaborative Artist Performances between 8 pm to 10:30 pm with an Intermission at 9 pm.
A night of innovative original music, film, and dance.  A genuine theatrical experience.  Seven sets of arts organizations will perform a series of original, spectacular, and unique collaborative artistic creations, live on the world famous Folly Theater stage.  KKFI will also record the performances and for an Audio CD to use in future fundraising efforts.
Collaborations
Quixotic – Aerial Arts, Ballet, Musicians, Lighting, & Visually Stunning Effects.
w/ Calvin Arsenia – Harpist, Guitarist, Songwriter
Kelley Hunt – Roots & Blues Artist from Lawrence KS, Tours the world, but this is home.
w/ Jeff Black – Folk Musician & Songwriter for Allison Krauss, Waylon Jennings, and many more from Nashville TN, but was raised in Liberty MO and cut his teeth in KC.
Enrique Chi (of Making Movies) w/ students of Art as Mentorship
w/ UMKC Composition & Performance Students
Amado Espinoza – Bolivian Folk Musician & Composer / Arranger with Hot Club of KC – Gypsy Jazz in the style of Reinhardt & Grappelli
Barclay Martin – Composer & Songwriter of Barclay Martin Ensemble & The Snow Globes
w/ Julia Haile – Vocalist w/ The Buhs & Hi-Lux, Former lead vocalist for The Goodfoot
Ala Mode – Jazz Ensemble
w/ Burlesque Downtown Underground – Burlesque Troupe
The Topeka Freedom Singers – Short Documentary
Folk Alliance International Artist in Residence Project
Rita Chiarelli – Canadian Blue & Folk Artists builds choir in Topeka Women's Prison
State City Films – Film Maker/Artist – Mikal Shapiro
Films of Ensemble Ibérica – Outstanding live performances captured on film
Ensemble Ibérica – performs the music of Ibéria (Spain and Portugal)
Elk's Pride Pictures – Film Maker/Artist – Matthew Dunehoo
Thank you for supporting KKFI 90.1FM – Voice of the Community
Thanks to our generous sponsors: Neighborhood Tourist Development Fund, Metzler/Copaken Initiative, Kissick Construction Company, Inc., Stockyards Brewing Co., Folk Alliance International, Mattie Rhodes Center, Californos, & Cupini's!

Friday June 30, 2017

7:00 PM

VIP $90-$120 Regular Admission $20-$40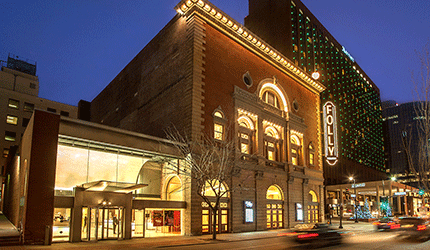 LOCATION
The Folly Theater
300 West 12th Street
Kansas City, MO 64105
Ticket Office 816.474.4444