The 36th Annual Folly Jazz Series presents
Larry Carlton Quintet
Friday, October 12th at 8 PM
JazzTalk with Joel Nichols at 7 PM
The legendary guitarist, Larry Carlton, will perform with his quintet in October as the second installment of the 36th season of the Folly Jazz Series. Carlton has bridged several genres over the years including rock, jazz, blues, and everything in-between. This crossover ability has set Carlton up to be known as an artist that sets the industry standard and the recipient of four Grammy awards. Carlton is also well known for his time playing with The Crusaders, FourPlay, Steely Dan, Lee Ritenour (Who performed at the Folly Theater in October of last year).  Carlton's most recent release is Session Masters in which Larry collaborates with several of his favorite artists.
Learn how to win a Meet & Greet with Larry Carlton
Band Line-up
Larry Carlton – Guitar
Ruslan Sirota – Keyboard
Gene Coye – Drums
Bob Reynolds – Saxophone
Wes Stephenson – Bass
Tickets are $20, $30, $40, and $55
Interested in joining the ranks of the Folly Jazz Season Ticket Holders? Learn more here.
This performance is a part of the Folly Jazz Series. You can see the full series line-up here.

Friday October 12, 2018

8:00 PM

$20, $30, $40, and $55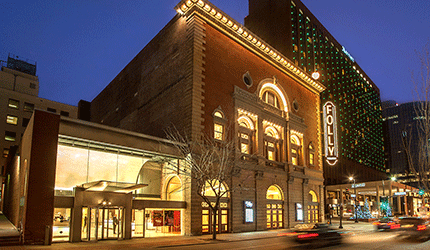 LOCATION
The Folly Theater
300 West 12th Street
Kansas City, MO 64105
Ticket Office 816.474.4444