Live! From the Lounge featuring Connie Dover
Thursday, April 8, 2021, at 7:00pm
Doors at 6:30pm
---
"Just occasionally, a voice arrives on the folk scene that is so pure, so beautiful, so magical,
that it tells you:  this is how to sing a song.  Such a voice has Connie Dover."
-The Scotsman (Scotland's National Newspaper)
Our next installment of  LIVE! from the Lounge series features vocalist Connie Dover! Acclaimed by the Boston Globe as "the finest folk ballad singer America has produced since Joan Baez," Connie Dover is a singer, poet, and Emmy-winning producer and composer.   Her ravishing interpretations of the intertwining of Scottish, Irish, and American folk songs display a depth and breadth of range that have earned her a place among the world's finest traditional singers.
Born in Arkansas and raised in Missouri, Connie began her Celtic music career as lead singer for the Kansas City Irish band, Scartaglen.  She has collaborated on stage and in the studio with folk ensembles, chamber orchestras, and cowboy bunkhouse bands from Denver to Dublin, and from Buenos Aires to Istanbul.   Connie has been a guest on NPR's Weekend Edition Saturday with Scott Simon, A Prairie Home Companion, Thistle and Shamrock, and Mountain Stage, and her music has been featured on NPR's Weekend Edition Sunday and Democracy Now!, hosted by Amy Goodman.
Connie has released six critically acclaimed albums (three of which were recorded in Scotland) and a book of poetry.  She is a recipient of the Speakeasy Prize in Poetry, an Emmy Award for Musical Composition and Arrangement. and the Yellowstone and Grand Teton Song Contest Grand Prize, (sponsored by the Western Folklife Center in Elko, Nevada). She has twice been a finalist for a Native American Music Award.  In 2017, Connie was inducted into the Missouri Music Hall of Fame.
 Alongside her musical career, Connie spends summers cooking on a ranch in northwest Wyoming, and she is a cook and guide at a remote winter camp in Yellowstone National Park. It was around Wyoming campfires, trading songs with old-time cowboys, where Connie discovered that the ancient Celtic ballads that had so captivated her were still being sung on cattle trails in the Rocky Mountains. Her studies at Oxford University, where she traced the rich history of these songs, further enriched her unique perspective of the history and vitality of traditional music.
 Connie's enchantment with the enduring themes of Cowboy and Celtic ballads inspires her passion for capturing a song's emotional core. Her love for the high plains and mountains of the American West paints the broad landscape of her music.  She offers listeners an experience that transcends cultural boundaries and affirms our connection with the past.
 "Connie Dover has become an American treasure who has rediscovered the musical synergy
that existed between the British Isles and the American West." 
– Cowboys & Indians Magazine
 "Connie Dover is the finest folk ballad singer America has produced since Joan Baez . . .
Her soprano is shimmeringly pure, her phrasing pristine, her evocations of ancient Anglo-Scottish,
Irish and American cowboy ballads melodically exquisite and utterly believable."
–        Scott Alarik, The Boston Globe
Tickets are $22.  Seating is limited to 20 people for covid protocol.  
---
Thank you to the Live! From the Lounge Sponsors
The Copaken Family Foundation 
John W. & Effie E. Speas Memorial Trust, Bank of America Trustee

Thursday April 08, 2021

7:00 PM

$22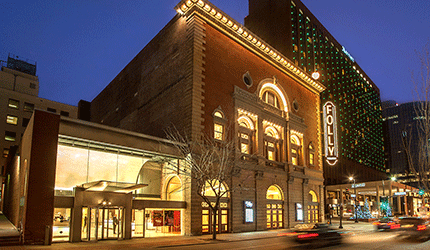 LOCATION
The Folly Theater
300 West 12th Street
Kansas City, MO 64105
Ticket Office 816.474.4444