This concert has been canceled by the artist's management. Please contact the Harriman-Jewell Series for information regarding ticketing and rescheduling.
---
Mozart's piano concertos are among his greatest works, and no one plays Mozart like pianist Mitsuko Uchida. In the Mahler Chamber Orchestra, she has found her perfect Mozartean partner. With 45 players from 20 different countries, the Mahler Chamber Orchestra is truly an international ensemble with the highest standards of performance.
Uchida and the Orchestra share a passionate, experimental spirit that blows the dust off revered 18th century works to allow audiences to hear them anew. Uchida's graceful, cerebral and lyrical approach to Mozart's music will bring out all of its beauty and intellectual depth to his piano concertos nos. 17 and 22.
---
Single ticket prices: $31.00 $36.50 $51.50 $61.50 $71.50 $81.50.
---
The Folly Theater Box Office does not handle ticket sales for this event. Please click the buy tickets to be directed to the ticketing page or contact the Harriman-Jewell Series Box Office at 816-415-5025.
**This event is presented by a rental client. The content of this event does not necessarily reflect the views or opinions of the Folly Theater, its staff, or board of directors.

Sunday March 22, 2020

7:00 PM

$31 - $81.50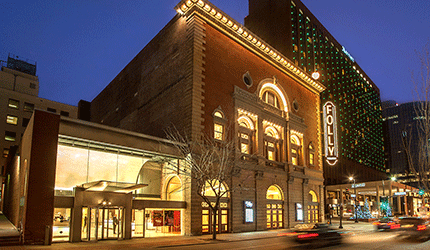 LOCATION
The Folly Theater
300 West 12th Street
Kansas City, MO 64105
Ticket Office 816.474.4444