All 7 Harry Potter Books in 70 minutes!
"Casts the perfect spell over the audience"—The New York Times
"The single funniest thing I've seen in ages"—The Toronto Star
A New York Times Critics' Pick, POTTED POTTER – THE UNAUTHORIZED HARRY EXPERIENCE, takes on the ultimate challenge of condensing all seven Harry Potter books (and a real-life game of Quidditch) into seventy hilarious minutes. This fantastically funny show features all your favorite characters, a special appearance from a fire-breathing dragon, endless costumes, brilliant songs, ridiculous props and a generous helping of Hogwarts magic! Even if you don't know the difference between a Horcrux and a Hufflepuff, Potted Potter will make you roar with laughter. This brilliant family entertainment is perfect for ages six to Dumbledore (who is very old indeed)
Written and created by two-time Olivier Award-nominated BBC Television actors Daniel Clarkson and Jefferson Turner, the show that has been seen by over a million fans is playing Kansas City. Whether you're team Gryffindor or don't know the difference between a Death Eater and Dumbledore this show is a seriously good time!
---
Tickets
$39.99 – $99.99 (+Fees)
The Potted Potter Performance run several days – You can find all shows HERE
The Folly Theater Box Office DOES NOT handle the ticketing for this show. Please visit TicketMaster.com or click the buy tickets link below to purchase tickets. Box Office fees WILL NOT be waived for walk-up purchases.
---
**This event is presented by a rental client. The content of this event does not necessarily reflect the views or opinions of the Folly Theater, its staff, or board of directors.

Friday November 29, 2019

2:00 PM

$39.99 - $99.99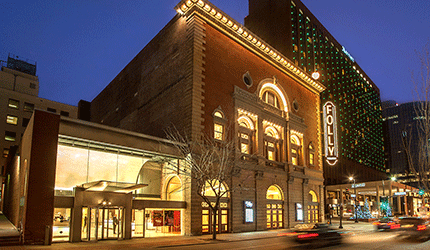 LOCATION
The Folly Theater
300 West 12th Street
Kansas City, MO 64105
Ticket Office 816.474.4444