This performance has been moved from its original date due to the COVID-19 Epidemic. We will work with all ticket purchasers and Season Ticket Holders over the next few weeks to help manage any ticketing questions.
---
RESCHEDULED
The Folly + 90.9 The Bridge Americana Series presents
Sam Baker Trio
Saturday, November 13, at 8 PM
Sam Baker's music has been compared to that of John Prine. Baker's 2013 album, Say Grace, was listed by Rolling Stone as one of the top 10 country music albums of 2013. In his review of Say Grace, Jim Fusilli wrote: "In Mr. Baker's tales, the personal becomes universal through his keen-eyed writing, supported by well-chosen instrumentation and what might be called spoken-word melodies."
In 1986, Baker was traveling by train to Machu Picchu in Peru when a bomb placed on a luggage rack above his head by the Shining Path guerrilla group exploded, killing seven other passengers including the three people who had been sitting with him. Baker was left with numerous injuries, including brain damage, a cut artery, and blown-in eardrums. His injuries required 17 reconstructive surgeries. He has a constant case of tinnitus and the fingers of his left hand were left gnarled. He did retain enough dexterity to grasp a guitar pick and over time, re-taught himself to play his guitar left-handed.
Among Baker's influences for his songwriting are Ken Kesey, William Faulkner, Ernest Hemingway, and Bob Dylan, and fellow Texans Lightnin' Hopkins, Guy Clark, and Townes Van Zandt. Baker's latest album is Horses and Stars, a live solo album he released in June 2019.
Learn more about Sam Baker, his music, and his art at https://www.sambakermusic.com/
---
Tickets
$15, $25, $35, $50
---
This performance is a part of the Folly + 90.9 The Bridge Americana Concert Series. Find the full line up, here.
The Folly Theater thanks its generous Sponsors for the Folly + 90.9 The Bridge Americana Concert Series

Saturday November 13, 2021

8:00 PM

$15 - $50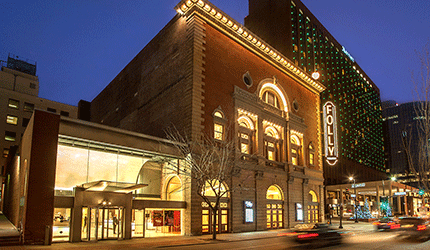 LOCATION
The Folly Theater
300 West 12th Street
Kansas City, MO 64105
Ticket Office 816.474.4444