THIS EVENT IS AWAITING ITS RECAST DATE CONFIRMATION; ITS ORIGINAL DATE WILL CHANGE DUE TO COVID-19 CONCERNS.
---
American star bassist Edgar Meyer returns to the Harriman-Jewell Series for a concert with the acclaimed Scottish Ensemble. Based in Glasgow, the string ensemble has worked with Edgar Meyer for more than a decade exploring the roots of bluegrass in the music of the British Isles, and crafting a program that traces back to the origins of an American art form. The Observer U.K. has praised the Ensemble as "a scintillation of ace soloists who combine bracing energy, flexibility and precision, breathing and moving as one."
Edgar Meyer is one of America's most versatile musicians. Growing up in Oak Ridge, Tennessee, Meyer absorbed the great bluegrass tradition. As a composer, Meyer has written music for Emanuel Ax, Yo-Yo Ma, and Hilary Hahn. The six-time Grammy winner has also ventured into jazz with collaborations with Christian McBride.
---
Tickets may not yet be available online. Contact the Harriman-Jewell Series Box Office for more information.
---
The Folly Theater Box Office does not handle ticket sales for this event. Please click the buy tickets to be directed to the ticketing page or contact the Harriman-Jewell Series Box Office at 816-415-5025.
**This event is presented by a rental client. The content of this event does not necessarily reflect the views or opinions of the Folly Theater, its staff, or the board of directors.

Sunday April 18, 2021

3:00 PM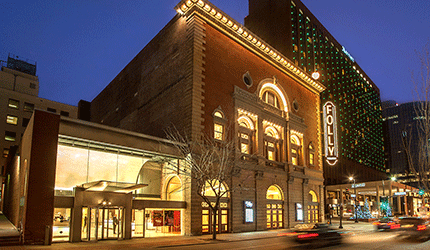 LOCATION
The Folly Theater
300 West 12th Street
Kansas City, MO 64105
Ticket Office 816.474.4444