The 37th Annual Folly Jazz Series presents
Stefon Harris & Blackout
Saturday, October 26th at 8 PM
JazzTalk with Steve Paul at 7 PM
---
Educator, Vibraphonist, and Composer, Stefon Harris has been heralded as "one of the most important young artists in jazz" by The Los Angeles Times. Stefon Harris' passionate artistry, energetic stage presence, and astonishing virtuosity have propelled him into the forefront of the current jazz scene. Widely recognized and lauded by both his peers and jazz critics alike, the award-winning musician is committed to both exploring the rich potential of jazz education and blazing new trails on the Vibraphone.
A four-time GRAMMY™ nominee, he is a seven-time Best Mallet player by the Jazz Journalist Association, the recipient of Lincoln Center's Martin E. Segal Award, Downbeat's Critics Poll Winner for Vibraphone (2015, 2013) and 2014 Expanded Critic's Poll for Vibes from Jazz Times. He won a 2014 NAACP Image Award for Outstanding Jazz Album for Wonder: The Songs of Stevie Wonder as a member of the SFJazz Collective.
---
Band Line-Up
Stefon Harris – Vibraphone & Marimba
Casey Benjamin – Alto-Saxophone & Vocoder
Marc Cary – Piano
Ben Williams – Bass
Mark Colenburg – Drums
Tickets are $20, $30, $40, and $55
Interested in joining the ranks of the Folly Jazz Season Ticket Holders? Learn more here.
This performance is a part of the Folly Jazz Series. You can see the full series line-up here.

Saturday October 26, 2019

8:00 PM

$20, $30, $40, & $55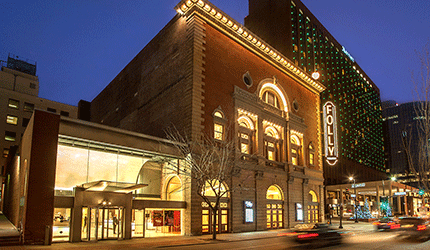 LOCATION
The Folly Theater
300 West 12th Street
Kansas City, MO 64105
Ticket Office 816.474.4444