It's impossible to not feel good after a King's Singers concert. These six vocalists possess the highest standards, as well as an ingratiating manner that has audiences captivated by their musicianship and charisma. Their program, Finding Harmony, will feature music from the 16th century to the modern day, which seeks common ground between nations, cultures, and causes. From William Byrd to Martin Luther to Ariana Grande, Finding Harmony offers music of hope and inspiration.
While the ensemble's membership has changed over the years, what has remained constant since the King's Singers was founded in 1968 are the hale and hearty voices, charm and British wit, all of which have allowed The King's Singers to conquer audiences with ease. Steeped in the British choral tradition, the ensemble's musicianship is impeccable. Gramophone magazine commended The King's Singers as "a musical group of the very highest order."
---
Tickets may not yet be available online. Contact the Harriman-Jewell Series Box Office for more information.
---
The Folly Theater Box Office does not handle ticket sales for this event. Please click the buy tickets to be directed to the ticketing page or contact the Harriman-Jewell Series Box Office at 816-415-5025.
**This event is presented by a rental client. The content of this event does not necessarily reflect the views or opinions of the Folly Theater, its staff, or the board of directors.

Saturday February 19, 2022

7:30 PM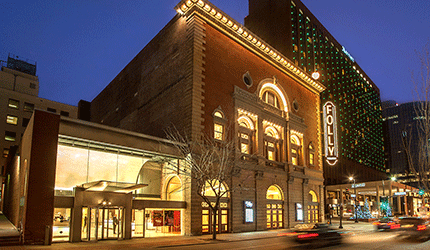 LOCATION
The Folly Theater
300 West 12th Street
Kansas City, MO 64105
Ticket Office 816.474.4444