Recommended for grades Pre-K – 3rd Grade
The first of three tales introduces the most beautiful fish in the sea, whose scales shimmer in all the colors of the rainbow. He is admired – and resented – by the entire underwater world until a clever octopus advises him to give each fish one of his scales. Based on the best-selling book by Marcus Pfister.
Further adventures follow as The Rainbow Fish finds the courage to explore the great unknown deep sea, discovering a new world with wonderful sights and friendly creatures of all shapes, sizes, and colors who are eager to make his acquaintance. The underworld wonderland is the setting for an introduction to the concept of opposites. As a fitting finale, the story ends with the most satisfying opposite of all—give and take—as Rainbow Fish shares one of his shining scales with a friend.
ALL TICKETS $6!
Have a group or school?
GIVE US A CALL! 816-474-4444 OR EMAIL LINDA BOWLEN,

[email protected]
---
The Folly Kids' Series is a collection of national and international traveling companies that produce shows focused on education, inclusion, and fun. See more Folly Kids' Series shows here.

Wednesday November 06, 2019

11:30 AM

$6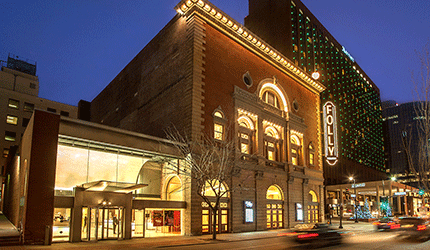 LOCATION
The Folly Theater
300 West 12th Street
Kansas City, MO 64105
Ticket Office 816.474.4444