Kids' Series
2017 Folly Kids' Series Officially Announced!
A Little History First...
Every year the Folly Theater hosts around 6,500 kids from around Kansas City to come and see plays that help them expand their knowledge of history, culture, and diversity. The folly has been running its, Kids' series since the doors reopened. The directors and board at the time noticed a lack of child-specific programming in Kansas City and wanted to take the opportunity to make a difference. When the first Folly Kids' Series was announced about 30 years ago, it was one of the first of its kind in Kansas City.
Since then the Folly has hosted traveling acts from around the world with kid-friendly programming containing subjects like history, math, inclusion, culture, and just plain silliness. This year we're proud to host the Folly Kids' Series 2017-2018 program!
[gallery columns="4" ids="9050,9051,9052,9053"]
---
Folly Kids' Series Line Up!
Tickets will go on sale June 30th!
The Unkown Soldier
October 30th - 9:45 AM & 11:30 AM

Suggested for 5th - 9th Grades
With a tour timed to honor the centenary of WWI and America's entry in 1917, this poignant new work explores themes of war, duty, courage, and sacrifice. Using the lens of history, we discover the meaning and importance of The Unknown Soldier the play and consider his significance for young audiences worldwide.
Produced by the
Monkey Baa Theater
- Sydney, Australia
SkippyJon Jones Snow What
January 16th - 9:45 AM & 11:30 AM
Suggested for Pre-K - 2nd Grades
Mirror, mirror on the wall, who is the bravest Chihuahua of them all? Skippyjon Jones the Siamese cat who thinks he's a Mexican Chihuahua of course! While his sisters listen to Snow White and the Seven Dwarves, Skippy heads off for the REAL adventure awaiting him in his closet. There, as his alter ego, Skippito Friskito, and with the help of his friends the Seven Chimichangos, Skippyjon must rescue the beautiful princess Nieve Qué (Snow What) battle the evil dragon and defeat the Bruja. A brand new musical based on the book by JudySchachner, Snow What is a twist on the classic fairytale Snow White and the Seven Dwarfs.
Four Score and Seven Years Ago
January 29th - 9:45 AM & 11:30 AM
Suggested for 3rd - 8th Grades
To young Lemuel, who has escaped slavery in Georgia, life in Gettysburg is everything he had dreamed it would be. His ideas about the North and the South, as well as what it means to be a free man are challenged, however when he unexpectedly befriends Jacob, a young Confederate soldier.  The two men may be of different races and on different sides of the Civil War, but they have much to teach each other about bravery and loyalty in ArtsPower's exciting and suspenseful musical.
Produced by
Arts Power
Charlotte's Web
February 5th - 9:45 AM & 11:30 AM
Suggested for Pre-K - 2nd Grades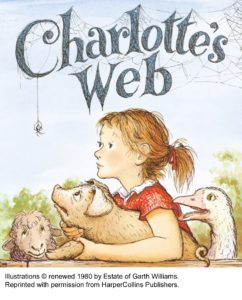 Theatreworks' production of Charlotte's Web is based on E.B. White's loving story of the friendship between a pig named Wilbur and a little gray spider named Charlotte. Wilbur has a problem: how to avoid winding up as pork chops! Charlotte, a fine writer and true friend, creates a plan to fool Farmer Zuckerman -- she will create a "miracle." Spinning the words "Some Pig" in her web, Charlotte weaves a solution which not only makes Wilbur a prize pig but ensures his place on the farm forever. This treasured tale, featuring mad-cap and endearing farm animals, explores bravery, selfless love, and the true meaning of friendship.
Chocolate Milk Por Favor
April 16th - 9:45 AM & 11:30 AM
Suggested for Pre-K - 4th Grades
Young Johnny is a big fan of school but that all changes when the new kid, Gabe arrives. Gabe doesn't speak any English, and that doesn't stop Johnny from going out of his way to be unkind. What will Johnny do when Gabe starts to make new friends? Will he join in the fun of making a new friend or turn the other way?  Johnny realizes a powerful message in this story where student differences are celebrated.
Produced by
Stars Within Reach Productions
This year's season promised to be a fun, light-hearted season with some influential messages about acceptance, friendship, and a bit of history as well!
Remember you can purchase tickets online or by calling our box office at 816-474-4444.
Individual tickets go on sale on June 30th!