Folly Jazz Series
35th Anniversary of the Folly Jazz Series!
35 Years Ago...
The
Folly Theater
took on the passion project of developing an
annual Jazz series
. This series would bring unknowns, big names, and even local talent to the historic stage to showcase new and loved styles of Jazz. The Folly Theater Jazz Series has brought some world renowned artists to Kansas City including 
Eliane Elias
,
Jonathan Batiste
,
Donny McCaslin
, and
Robert Glasper
. Even bringing in local names like
Bob James
,
Bobby Watson
, and the beautiful,
Karrin Allyson
. The
team at the Folly Theater
has always worked as hard as possible to bring Kansas City a diverse range of Jazz influences. This year, you should expect no different.
---
35th Anniversary Folly Jazz Series Line Up!
This year's line-up includes a mix of guitar, Latin, orchestral, and hot French Jazz. The Folly Theater's Executive Director, Gale Tallis, worked very hard to put together a bang-up series this year bringing new and some familiar names to Kansas City.
Saturday, October 28th, 2017
Growing up in L.A. in the 60's Grammy award-winning guitarist Lee Ritenour received a rich cross section of exposure to jazz, rock and Brazilian music.  He has received 17 Grammy nominations and recorded over 40 albums, notably the Top 15 hit "Is It You", which has become a contemporary jazz radio classic, as well as working with a diverse cross-section of well-known artists such as Tony Bennett, Dizzy Gillespie, Sonny Rollins, Dave Grusin, and even Renee Fleming.
www.LeeRitenour.com
Saturday, December 9th, 2017
Spanish Harlem Orchestra, the two-time Grammy-winning, Salsa and Latin Jazz Band, sets the standard for excellence for authentic, New York style, hardcore salsa.  Now in its fourteenth year, SHO is dedicated to the sounds of the barrio. Their music is characterized by the raw, organic and vintage sound defined by the genre.  Grounded in the past, while focused on the future, they strive to keep the music relevant while creating a unique and fresh approach.
www.SpanishHarlemOrchestra.com
Friday, January 19th, 2018
In 2014, Marcus Roberts' life and work was featured on a segment of the celebrated CBS News program 60 Minutes, entitled "The Virtuoso", which traced Roberts' life to date from his early roots in Jacksonville and at the Florida School for the deaf and blind to his remarkable career as a modern jazz musician.  Roberts toured with Wynton Marsalis starting at age 21 when he left to tour with his own band.  In addition to being an accomplished composer and classically trained musician, Roberts has also been long dedicated to the training and development of younger musicians.
www.MarcusRoberts.com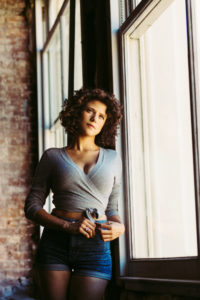 Saturday, February 17th, 2018
Vocalist Cyrille Aimee was primarily raised in Samois-Sur-Seine, France, the same place where legendary gypsy guitarist Django Reinhardt had lived, which contributed to her great love of gypsy musical influences.  In her words, "I was hypnotized by gypsy music, which made me want to tap my feet; music that swings makes me so happy."  Aimee's hybrid of influences has resulted in a sound that is at once both fresh and enlivening, which is to say nothing of her singular voice, destined to enthrall audiences for decades to come.
www.CyrilleMusic.com
Friday, March 9th, 2018
Take a blustery brass lineup, layer it over a rhythm section led by a stride-piano virtuoso in the Fats Waller vein, and tie the whole thing together with a one-of-the-boys frontwoman with a voice from another era, and you have the Hot Sardines (and let's not forget about the tap dancer)! The Sardine sound is steeped in hot jazz, salty stride piano and the kind of music Louis Armstrong, Django Reinhardt, and Waller used to make: straight-up, foot-stomping jazz.
www.HotSardines.com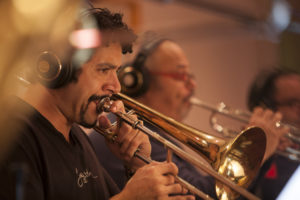 Friday, April 27th, 2018
An all-star ensemble comprising eight of the finest performer/composers at work in jazz today, the SFJAZZ Collective's mission each year is to perform fresh arrangements of works by a modern master and newly commissioned pieces by each Collective member. Through this pioneering approach, simultaneously honoring music's greatest figures while championing jazz's up-to-the-minute directions, the Collective embodies SFJAZZ's commitment to jazz as a living ever-relevant art form.  In 2017-2018, they pay tribute to trumpeter, composer and innovator Miles Davis.  More than any other figure, Davis changed the sound of jazz throughout his career.
www.SFJazz.org/SFJAZZcollective
---
Gale Tallis, Executive Director of the Folly Theater, gives some input on the significance of our 35th anniversary:
This year, the historic Folly Theater celebrates bringing 35 years of bringing the world's greatest jazz musicians to Kansas City in what Downbeat Magazine noted is "one of the 150 best jazz venues in the world". From Dave Brubeck to Esperanza Spaulding, the Yellowjackets and Bobby Watson, audiences have been wowed by the amazing acoustics and experience of hearing jazz in such an intimate space.  This year's series features something for everyone with our opening performance of contemporary jazz artist Lee Ritenour, to the joyful music of The Hot Sardines and our final performance with the incredible SFJazz Collective!
---
Season Renewals are available now by mailing in the form mailed to you
New Season Subscribers are open August 1st (Placed after August 15th)
Individual Ticket sales are open August 18th
[gallery ids="9060,9061,9062,9063,9064,9065"]