70th Anniversary of Signing: Korean War Armistice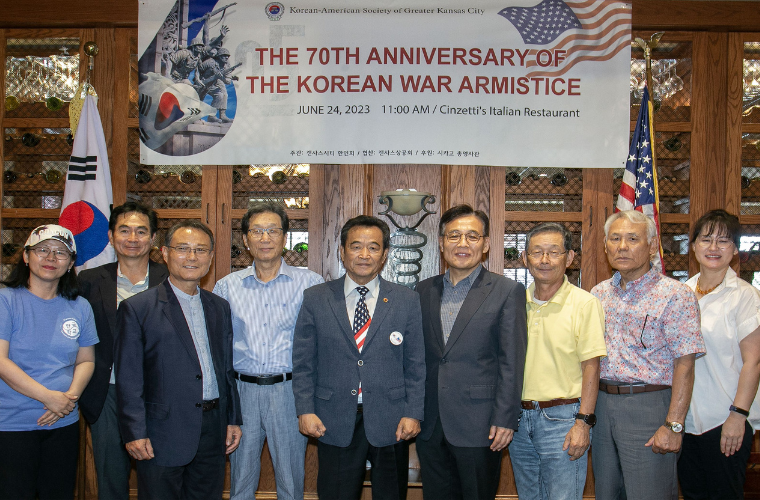 This Event Is Free To The Public!
Doors and prelude music at 9:30am, Ceremony begins at 10am.
Deputy Consul General Hyung In Gee, office of the Consulate General of the Republic of Korea in Chicago, will join Kansas City's veterans and Korean community to commemorate the 70th anniversary of the Korean War Armistice and reflect on the strategic and economic significance of South Korea today.
Missouri Korean War Veterans and Kansas City Korean survivors will also mark the armistice anniversary sharing their experiences and memories in an interactive community conversation at 10 a.m., July 27, 2023 at the historic Folly Theater, 300 W. 12th St., K.C., Mo.
On Armistice Day July 27th, Kansas Citians will reflect on how they left area high schools before graduating, enlisted and found themselves aboard heavy cruisers headed for the Korean Peninsula, or fighting yard by yard at places called Chosin Reservoir and the Punchbowl.
Former ROK soldiers recall how they were overrun and under equipped as North Koreans armed by the Soviets and backed by Chinese troops streamed across the 38th parallel into South Korea. South Koreans, children back in the war, remember the terror and how they hid and resisted to see South Korea grow into a fierce democracy and economic juggernaut in Asia today.
The remembrance is presented by the State of Missouri Korean War Veterans Memorial organization. The memorial in Washington Park is the State of Missouri's official Korean War memorial honoring Missourians who fought in the Korean War, especially 900 Missourians ,including 100 from Kansas City, Mo., who gave their lives in the war.
The memorial also recognizes 47,000 Republic of Korea soldiers and more than one million South Korean civilians who were killed in the three-year war. More than 37,000 Americans were killed in the war and 103,000 were wounded.
More than 7,000 Koreans call greater Kansas City home.