Alexa Tarantino Quartet
Part of the Folly Jazz Series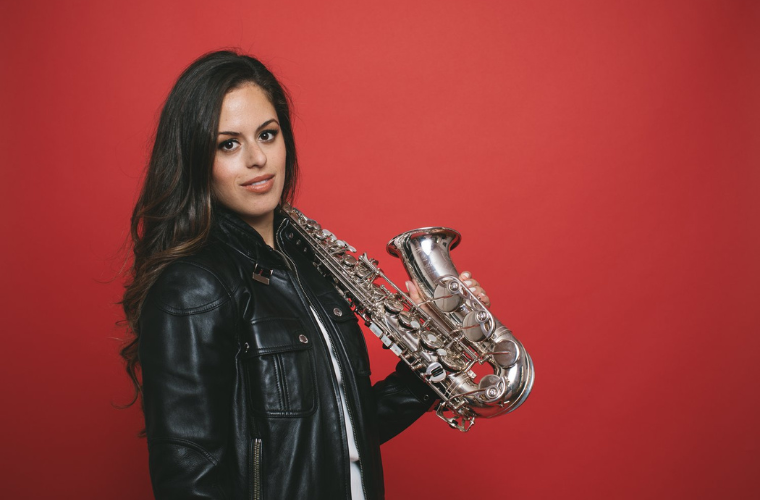 Alexa Tarantino Quartet
2023 - 2024 Jazz Series Subscriptions & Tickets on sale NOW
Box Office Opens: 6:30pm
Jazz Talk*: 7:00pm
JazzTalk with Alexa Tarantino will be led by Dan Thomas.
Theater Doors Open: 7:30pm

*pre-show discussion with performer, all ticket holders welcome to attend! Subject to change depending on artist schedules

"[Alexa is] a one-woman wrecking crew, […] an indomitable force for expression, education, and absolute excellence."
— Wynton Marsalis, Managing and Artistic Director, Jazz at Lincoln Center
Alexa Tarantino is an award-winning, vibrant, young jazz saxophonist, woodwind doubler, composer, and educator. Alexa's "high-octane [performance]" (Jazziz Magazine) and "sharply plotted but gracefully unencumbered straight-ahead jazz [compositions]" (The New York Times) establish her individual voice which shines through as a dynamic performer and educator. Tarantino was nominated as a "Rising Star Alto Saxophonist" by Downbeat Magazine's 2022, 2021 and 2020 Critics' Polls, and named one of the "Top 5 Alto Saxophonists of 2019" by the JazzTimes Critics' Poll.
She can be seen touring and performing internationally as a saxophonist and flautist with the Alexa Tarantino Quartet, Cecile McLorin Salvant's Sextet, and is the newest member of ARTEMIS, led by Renee Rosnes. Alexa has appeared with a wide variety of ensembles including the Wynton Marsalis Septet, Jazz at Lincoln Center Orchestra, Cecile McLorin Salvant's OGRESSE, Ulysses Owens Jr.'s Generation Y and Big Band, the Vanguard Jazz Orchestra, Arturo O'Farrill & The Afro-Latin Jazz Orchestra, and the DIVA Jazz Orchestra.
Firefly, Alexa's third record for Posi-Tone Records released April 2021, hitting #6 on the JazzWeek charts. Her previous album, Clarity, peaked at #9 on the JazzWeek charts and landed at #54 for JazzWeek's Top 100 records of 2020.
Tarantino is currently on faculty for Jazz at Lincoln Center's Youth Programs and represents the organization as a Clinician and Educator for various schools, festivals, and workshops. She holds a Master's degree in Jazz Studies from The Juilliard School and Bachelor's degrees in Jazz Saxophone Performance and Music Education from the Eastman School of Music. Alexa is Founder and Director of the Cape Ann Jazz Workshop in Rockport, Massachusetts.
Alexa Tarantino is a Vandoren Artist and Yamaha Performing Artist.